10 Best Inov-8 Running Shoes Reviewed & Fully Compared

1
The top Inov-8 running shoes are here! Now that you have the chance to read all the reviews I'm sure you will be even more eager to try them out. They do surely provide comfortable and durable  running shoes that are aimed at running on trails, mud, and other terrain, as well as running shoes that lean toward a minimalist style running shoe.
Into winter running? This brand puts out seasonal specific models for those frigid times of the year as well…
10 Best Inov-8 Running Shoes
Inov-8 Road Claw 275
A comfortable running shoe that can handle
rough roads
while absorbing shock and providing traction.
Expand to see more
Comfort / Stability
This is a comfortable and stable running shoe. It has some holes in the material to allow your feet to breathe more easily. It has a midsole underfoot protection that is designed to absorb shock when your foot hits the ground. This running shoe is built to withstand all road conditions.

Inov-8 was launched to be a counter rival to the Zoom Vomero from Nike and the Brooks Glycerine this was a competition between the neutrally cushioned favourites. What we runners want is extra cushion for those extra gruelling miles on challenging runs. As we know  extra cushion often means more weight and this tests our levels of endurance.

This shoe feels light at 289 and its 31g less heavy than its rival from Brooks and Nike. Excellent shock absorption qualities, especially for those with a forefoot strike.

The outsole can cope with challenging surfaces, including and surprisingly loose wet pebbles, this was good when considering this is more of a road shoe.

This shoe is a step up in performance while keeping a lot of features from the previous Inov 8, which itself enjoyed many years of popularity.

This shoe has similar FIT features to the Race Ultra 290 but offers a more narrow forefoot and better hug at the heel.

Midfoot strikers will feel comfortable with the heel to forefoot drop of 8mm and the weight feels right at 275 grams.

Powerflow tech in the midsole provides a good shock absorption level much better than most standard midsoles and at the same time we runners get a smooth comfortable ride. Spring factor is notable and helpful due to the Dynamic Fascia Band built into this shoes.

The roomy toe box is a much appreciated feature and ample room in the length and width of the shoe, for short runs or longer challenging runs, the shoe is nice and light and performs very well.

Durability / Quality
This is a quality durable shoe. There have been no reviews of wear and tear. It allows you to have good grip on the road with its claw-cleat lug design giving you ultimate traction.

A durable outsole through the inclusion of TRI-C which provides solid grip/traction as we move through our gait cycles, as our body motions generate energy this is transferred to the surface through this innovative outsole.

The materials used in the shoe construction are durable and I like the secure hold onto my foot provided by the thoughtfully designed weave of the fabric in the upper for the mid-foot area, this is durable quality providing a clear feeling of stability, especially while running down a slope. This feature in the shoes lets runners splay their toes for support.

The upper mesh is more open than the previous Roadclaw 275 so breathability is better and wick performance in the materials appears really good. For secure fit the wide lace system allows for a snug foot on all foot sizes.


Cost/Value
These running shoes can tend to be a bit more on the pricey side, but are worth the money spent.
Shock absorbent
Traction
Stability
Comfortable
Durable
Breathable
Wide toe box
Sizes may run small
May feel heavy
Inov-8 Terrafly
A comfortable running shoe specifically designed to run on trails and will be lightweight, and absorb shock.
Expand to see more
Comfort / Stability
This is a comfortable and stable running shoe. If you run on a lot of trails and need a running shoe that is designed for just that this one will surely do the trick. It has a breathable mesh lining to allow your feet to breathe more easily.

A nice Light shoe (ladies take note, these are made you for you and men), the brand offers a nice selection of colors to choose from. The shoe weighs in at 8 ounces and a comfortable stabilizing 6mm drop.

The shoe feels compact in terms of FIT and while running you get a nice feeling of the shoe being a functioning part of you rather than feeling as if it's something acting between you and the surface.

For those that like minimalist shoes, these shoes perform very well, the heel through to toe differentials feel very stable at 6mm.

You get a sense of comfortable protection due to the built in abrasion resistant patches designed into the heel of the shoe, these patches are tough and certainly serve up good protection.

 The lugs can claw down into all types of surfaces and the stability given from this is phenomenal and allows you to maintain momentum on flat surfaces on most trail surfaces and I particularly like the power of the lugs when going down or up slopes.

There is one point to pay attention on regarding these high performing lugs, if you encounter soft clay mud with a lot of stickiness, this mud can hold between the lugs and clog up the performance of the sole.

Durability / Quality
This is a durable quality running shoe. There were no reviews that mentioned wear and tear. The outsole of the shoe is designed to provide a good grip and allow for traction.

The tread is impressive and durable, it gives you more surface contact than a standard trail shoe and more traction than usual for a road shoe and this durable performance is a result of the quality Inov 8 Endurance tread made from a durable compound.

Nice mesh material which even allows nice room for foot movement, when you touch down with the sole.

For grip the impressive lug design and layout give you full control no matter what type of trail surface and it's nice to note that the traction performance of a road surface is equally as good.

The toe box is roomy so you can splay or wriggle your toes,  the upper materials impressively wicks away moisture but the trade-off is that you need to think about wearing a comfortable pair of socks for the purpose of blocking entry to fine sand or gritty small stones.

Having said that you do get top maximum breathability and the materials are durable in wet weather conditions. Choose a sound strong pair of laces to stop any loosening while out on a run. I particularly liked the waterproof protection offered by the toe guards as they are very effective at stopping water from wet grass entering the front of the shoe.

Cost/Value
These running shoes can tend to be a bit more on the pricey side, but are worth the money spent.
Breathable
Comfortable
Durable
Flexible
Lightly cushioned
Shock absorbent
Lightweight
Will run harder on pavement as the design is intended for trail runs
Sizes may vary
Inov-8 Trailroc 245
A comfortable off-road running shoe that will provide support and traction while you run.
Expand to see more
Comfort / Stability
This is a comfortable running shoe that will provide comfort and stability while you run. It is mean to work best on trails, mud, dirt surfaces, rain, or obstacle courses. They are a very lightweight running shoe.

Fit and Feel: This most certainly qualifies as a running shoe with major neutral qualities, forget arch support, where you're going to run you won't want or need it.

This shoe throws down an aggressive wide print far wider than other models, if you're going on a mega long run this is what you need for the challenges which you will face.

Long runs produce swelling feet and the shoes design allows for this to maintain your comfort.

So, if you are also a person with generally wider feet this shoes is good for you.

Even on a reasonable road run the extra cushion built into this shoe minimises the feeling of running on lugs and the shoe design allows a good foot strike on multiple surfaces.

Stitching in the upper is kept to a bare minimum so on those long runs the chances of irritation or blisters are greatly reduced.

The toe box gives a lot of space for toes which need to splay out on long challenging runs and a 6mm foot-bed.  You get lots of extra padding but you retain flexibility and appreciable feedback from surfaces when striking the ground.

Durability / Quality
This is a quality and durable running shoe. There have no complaints of wear and tear on this shoe. They will provide great grip and traction in different types of weather on off-road conditions.

This shoe can cover a lot of distance, wear problems are minimal and the lugs can even take running on road surfaces which shows a good level of durability. Forget about toe holes or side blow outs, the durability tech in this shoe is very good.

Sole: Unlike other shoe models in this brand range, we see smaller lugs which are more generously spaced on the sole surface. 

The designing into the sole in high wear areas of a Tri-Compound durable sole is a wonderful idea and in the mid-foot we see a softer flexible durable rubber surface, the instep consists of a durable rubber with stickiness for gripping rock surfaces.

This present sole that can cope with any surface, the bite grip factor is present, the flexibility is there and the sticky factor is ready for slippery wet rocks.

This shoe is excellent for runners that want to change to minimal shoes for being closer to the trail surface while running and for those runners aiming to cover long distances.


Cost/Value
These running shoes definitely run on the higher side of cost, but are worth paying for.
Underfoot cushion
Lightweight
Comfortable
Durable
Supportive
Traction
Wide toe box
Not made to run on roads
Sizes may run small
Inov-8 Trailroc 255
A comfortable and stable running shoe that works best on
trails
and is cushioned.
Expand to see more
Comfort / Stability
This is a comfortable and stable running shoe. It Works best on trails, including dirt and mud, but not as well in water alone. You'll like the lightweight feel it has. It does have a mesh fabric that allows air to flow through and allow your feet to breathe. It is cushioned well and great for long distance runs.

This is a tough shoe up to whatever terrain it encounters, made for running on very challenging surfaces in equally challenging environment. A proactive shoe, take a look at the following specs in comparison to its brother models:

Differential: 6mm heel to toe Trailroc 255 – Shock  Zone 3

Differential:  3mm Trailroc 245 – Shock  zone 1

Differential: 0mm Trailroc 235 – Shock  Zone 0

This table shows the cushioning levels on a scale from 0 up to 4 and the protection for comfort comes through the innovative shoe tech Inov-8s an excellent running shoe cushion system.

The midsole presents a softer EVA, different from earlier shoe models and gives good cushion protection for very long distances. A low stack height ensures a good amount of stabilizing support and this result's from the inclusion of a comfortable wide platform.

The entire above are backed up with a MetaShank Rock Plate which gives maximum protection, sharp stones and other dangerous surface objects cannot penetrate and cause damage to you.

This is a comfortable shoe with great stability and protective features.

Durability / Quality
The durability and quality of this shoe is okay. There are some mixed reviews about the durability of this shoe. Some runners that have used it on wet surfaces state it did not hold up as well as other shoes.

Not a lightweight shoe, however there are those runners that want to finish a long tough enduring run with minimal negative damage to themselves and this requires a shoe which can endure, a shoe which gives both durability and quality. We all like shoes with minimalist features but how many of those shoe styles are up to tough endurance running?

Upper:  a clever durable mix of breathable and flexible mesh further supported by a top class TPU lace system. Around the toe box and arch we find a durable reinforced rand on each side of the shoe which provides exceptional protection from sharp objects. The upper is roomy so you can wear a good pair of thick comfortable socks.

Outsole: Built from a blend of Tri-C compounds and designed strategically into the sole to enhance durability and traction on the exactly the sole points where it is most wanted. The durable large lugs are positioned in sole areas that are more exposed to wear and smaller softer lugs are set onto the sole area of the arch for enhanced traction when encountering rocks.

The outsole design gives control and confidence on very challenging surfaces and the rounded edging on the soles allow your ankles to role enough to prevent ankle strains.

If you are looking for stability, durability, comfort and protection for when you take on tough challenging long runs this shoe is a must have.

Cost/Value
These running shoes definitely run on the higher side of cost, but are worth paying for.
Heel-to-toe drop
Comfortable
Durable
Wide toe box
Cushioned
Lightweight
Breathable
Heel-to-toe drop is a preference
Sizes may run small
May not be best on wet conditions
Inov-8 Road-X 233
A comfortable snug fit running shoe that lets you feel like your running on your bare feet.
Expand to see more
Comfort / Stability
This is a comfortable and stable running shoe. You'll feel like your running on your toes and you'll want to slowly up your miles when running in these to allow your muscles to develop. It's a lightweight shoe to enable the feeling of running on bare feet.

.The Inov 8 running shoes is offered in a broad selection of eye catching bright colours.

If you're a person that likes Inov shoes you're not going to feel let down by this model, they come with an arrow system to guide you into a minimal running style. 

In these you'll get a responsive run while still retaining a firm feeling, it's the closest you will get to actually running bare foot.

Comfort comes in abundance, with rigidity designed into the shoe from mid foot to the heel; the shoe gives you a very responsive run while ensuring comfort combined with a feeling of light freedom for the foot.

These shoes allow for speed on road surfaces and are good quality shoes which can perform well for trail running.

Take a quick look at the specs below, if they meet your requirement's you need to add these shoes to your running kit.

22.9mm heel height.

16.5 forefoot height.

6.4mm heel down to toe drop.

Durability / Quality
This is a durable and quality running shoe. There have been no reports of wear and tear from reviewers. It has good grip and traction, especially for uphill running.

The uppers are entirely constructed from mesh so the wick factor is very good, while you run you will retain cool dry feet.

Outsole, the design looks very similar to the shape of a foot which is an interesting feature for a shoe which comes very close to actually running bare foot. The feature bends round the toes and becomes more rigid from the mid-foot through to the heel.

The shoe weight comes from the durable firm plastic/rubber outsole, you get durability with a well fitted outsole which works in conjunction with a nicely designed midsole.

The outsole gives impressive grip as a result of the durable sticky rubber qualities, flexible grooves which can open to flex with the sole lend towards overall shoe flexibility.

The shoe is rounded off with a nice protective toe box which will give enough room to flex and spray your toes while you run.

Cost/Value
These running shoes definitely run on the higher side of cost, but are worth paying for.
Lighweight
Snug fit
Traction
Comfortable
Wide toe box
Flexible
Small rise in heel
Sticky outsole
More suited for persons with narrow feet
Inov-8 Road-X 238
A comfortable transition to a minimalist running shoe that is lightweight, supportive, and has traction.
Expand to see more
Comfort / Stability
These are a comfortable and stable introductory minimalist running shoe. It is surrounded with mesh fabric that allows your feet to breathe more easily. It has lace overlays to support your foot as you run. It has a 9 mm heel-to-toe drop, and minimal cushioning.

Durability / Quality
This is a quality and durable running shoe. There have been no reports from reviewers of wear and tear. The fascia band supports the anatomy of the foot while you run, and the razor outsole helps you run in wet weather.


Cost/Value
The cost of these running shoes can vary greatly from very cheap to quite expensive.
Breathable
Cradle web
Female specific
Cushioned
Heel-to-toe drop
Traction
Supportive
Comfortable
Toe box may run narrow
Shoe size may run small
Inov-8 Race Ultra 270
This one will move you long distances in a lightweight yet supportive design.
Expand to see more
Comfort / Stability
This is a comfortable and stable running shoe. It's best for running on trails or long distances. They aren't
waterproof
but have been tested by reviewers in wet conditions and drain well. They have a mesh fabric on top of the show to allow air to flow more easily so your feet can breathe.
Think of the previous model (290) do we get the feeling that a successful former model is now available with a lower drop, lighter weight and a very appealing color range?
Two colors for men and two for ladies.
An impressive light 270grams and with a drop of 4mm the runner is much nearer to terra firma, with this comes a higher level of proprioception and the quality cushion factor is retained in the shoe.
No restrictions, you can run on rocks, light mud, hard trails and road surfaces, the grip factor is very good and consistent, you certainly get a racier feel.
The shoes are wide at the front so pay attention to FIT for your feet when you purchase a pair.
This shoe is designed for us runners looking for a light weight shoe which can allow for putting on the speed while maintaining stability, comfort, durability, protection all blended into a stylish looking running shoe.
Durability / Quality
This is a durable and quality running shoe. There have been no reports of wear and tear from reviewers. The forefoot of the shoe has rock protection, while the outsole has sticky-rubber tread to allow for traction.
The Race ultra-Outsole features are a mix of hard and soft rubber. The outsole is flatter thus ensuring an even stable ride. For hard sole wear areas, we find more durable rubber and for less wear areas we find more flexible rubber, this gives a great grip factor for the runner.
The midsole is comprised from compressed EVA which gives you a nice firm run with noticeable comfortable cushion effect.
The upper shows two mesh layers blended together for stability, durability, protection, wick factor and comfort.
If you want to test how flexible the shoe is, simply fold the shoe in half.
Built into the shoe is the Gen111 Meta Shank which lines up with the metatarsals in the foot, this innovative system enables energy while continuing to maintain protection during foot impact on hard surfaces.
The shoes features a gusset tongue which works very nicely with the secure lacing system
Cost/Value
The cost of these running shoes is quite average for a good pair of running shoes.
Breathable
Long distance running
Comfortable
Durable
Padded tongue & collar
Lightweight
Flexible
Inov-8 F-Lite 195
This is a comfortable running shoe for runners who are trying to develop a natural running style.
Expand to see more
Comfort / Stability
This is a comfortable and stable running shoe. It is lightweight with a 3mm heel-to-toe drop. It is intended to be used for runners that are trying to develop a natural running style. It has reinforcements on the sides of the shoes that can protect your feet from terrain or ropes if in an obstacle race. It comes with a mesh material to allow air to flow through more easily and let your feet breathe.


Very flexible and certainly lightweight are in fact ultra-light when we consider their running purpose. Yet, these shoes can be work for other sporting activities, work outs in the gym, even gymnastics because they FIT well.

The forefoot enjoy very nice flexibility movement, foot movement is natural and functional due to the excellent Meta flex tech built into the shoe.

For secure stability which in performance terms is simply "incredible" we can appreciate the innovative Meta Cradle Webbing, this is very sound forefoot tech providing top notch security.

Breathability is there for those of us that build up a sweat, the upper of the shoe is constructed from a durable mesh which dries out very quickly.

Durability / Quality
This is a durable and quality running shoe. There have been no reported issues with wear and tear by reviewers. You'll get a good grip and stability while you run. While not waterproof these shoes will work well in wet weather and drain well when wet. The outsole is sticky providing for traction and stability while you run as well.


The sole gives exactly the right amount of grip for traction and lends you a very secure comfortable feeling of being in control.
The durable rubber sole sticks when wanted and releases smoothly when wanted and this sums up the right level of functionality we runners require from a shoe.

For durability provided through quality innovation, look no further than the (Ropetec) Reinforced Medial and Lateral Arches Tech.

Ropetec technology features an extra layer of highly flexible durable material for the purpose of retaining the structure of the shoe and preventing fraying, in short the shoe is built to be durable.

Cost/Value
The cost of these running shoes can be quite pricey but worth every penny.
Lightweight
Heel-to-toe 3mm drop
Reinforced sides
Traction
Comfortable
Durable
Flexible
Footbed may lack cushioning as it aims for a more minimalist approach
Inov-8 Mudclaw 265
A comfortable running shoe that is designed to withstand mud while providing comfort, and absorbing impact.
Expand to see more
Comfort / Stability
This is a comfortable and stable running shoe. These were made to run in the mud so if you like to run trails and a really rain day, or obstacles that have mud pits these would do great. It has a minimalist type design so unless you're used to running in this type of shoe it may take time for you to build the muscles you need to get a good run with them. It is shock absorbent and designed to lessen the amount of impact on your feet.

This shoe has serious intentions, it belongs off road and it wants to perform. 

If you're going for a ride on slippery, yielding soft muddy surfaces, put on these shoes, at 9.3 ounces the shoe is solid and ready for the task, protective and good cushion and allowing for flexibility when it is needed.

The performance from the Inov-* Meta Flex groove tech continues to be a key tool in this shoes arsenal, if you need flexibility you will get it. For protection you can feel safe and securely defended by the EVA midsole, sharp objects on the trail are kept away from harming your foot.

We find that the protection in the shoe is not overly bulky, the design is refined and subtle, the heel cuff has good protective shoe  tech. the toe box is defended by an overlay which also protects the midfoot from scrapes.

For drainage, the shoe is rather impressive, if you step in a stream the shoe design will literally pump out the water in conjunction with your foot motions.

This shoe model is neither heavy or light, it's middle range and capable of taking on challenging surfaces, certainly a worthwhile addition to your running kit.

Durability / Quality
This is a durable and quality shoe. There have been no complaints by reviewers of wear and tear. Keep in mind that these do not seem to fair well on wet slippery surfaces such as rubber or metal. The outsole has a mudclaw grooves for traction made for just what is sounds like, running in mud.

As is the case with this brand they always go for durability and this can be seen in the durable lugs, they bite down securely in a similar way to the popular Trailroc 245 shoe, though we need to keep in mind that this shoe is more specialized than the Trailroc.

Built to tackle all types of surfaces, the grip factor even holds at times when you need to step on a wet slippery tree root which might be spanning your trail.

A great durable upper constructed from ripstop, this fabric has more sturdy qualities than the standard upper mesh designs, high durable quality material for the outer and a nice soft interior lining for comfort.

If you have high standards regarding durability and quality, look no further, think about this shoe, it's a good bet.

Cost/Value
The cost of these running shoes can vary from average to quite expensive.
Snug fit
Comfortable
Durable
Padded collar
Shock absorbent
Cushioned
Traction
More difficult to grip slippery rubber surfaces (on obstacles)
Inov-8 Trailroc 235
This is a comfortable
minimalist
running shoe that is flexible and provides traction while you run.
Expand to see more
Comfort / Stability
This is a comfortable and stable running shoe. It is for minimalists. The material of the shoe is one that provides flexibility so that it feels more like you are not wearing a shoe when you run. This is a zero drop running shoe meaning that there is no heel-to-toe drop and you should be sure that you are ready to take on this type of running shoe before making your purchase.

This shoe runs nice and true to size and the shoe design accounts for a degree of foot swell on challenging runs, the shoe comes with a removable insole which allows for being replaced for other preferences.

You get instant foot snugness in the midfoot, plenty of space for the forefoot and the upper has stretch qualities to allow you to flex your foot for stability.
The sole is highly protective due to a very innovative rock plate design, I can't imagine many surface objects with the ability to pierce it and injure the foot.

You get a choice of three versions which is very runner friendly, the shoe we review here is the Trailroc 235 which is a zero drop model but you can consider the Trailroc 245 3mm drop at 9.2 ounces or the 255 giving a 6mm drop and weighing in at 9.9 ounces.

The 245 does surrender a degree of flexibility due to its higher protective tech but it's still ok and compensates via the flexible forefoot design. If you're a runner whom prefers a higher level of flexibility than the 235 is right for you.


Durability / Quality
This is a durable and quality running shoe. There have been no reports by reviewers of wear and tear. The outsole of this shoe is sticky rubbers that are placed for enhancing your grip while you run.

The flat lugs are durable in material and design and constructed from quality rubber, though they grip really well on challenging trail surfaces, you can get away with running on asphalt surfaces making this shoe a somewhat multi usable shoe in running terms.

You get a stable firm feeling underfoot which is a plus when running on soft muddy surfaces. The shoe gives high quality excellent traction even on snow, crusted ice and frost, and the durable shoe quality is resistant to wear.

A very tough rubberized outsole, giving a sensation of solidity which compensates for the shoe not incorporating a rock plate, protection is long lasting and durable.

In comparison a 235 running shoe offers greater protective qualities than a New Balance MT00, both shoes models are zero drop trail shoes and both are very good.

The upper consists of durable external overlays wrapping around to the back heel area and the construction is a traditional fabric with sound foot hugging qualities from a comfortable soft based material.

Summing up, the Inov 8 235 has great grip factor, and for a zero drop shoes the durability of the shoe along with protective tech is very good. Rides really nicely on trails, roads and other surfaces.

Cost/Value
The price of these running shoes can be quite expensive, but worth every penny if they are what you are looking for.

Flexible
Zero drop shoe
Comfortable
Durable
Traction
Breathable
Rock protection
May be difficult to find wide widths
Sizes may run small
It's amazing what they can do with running shoes now. These Inov-8 running shoes are durable and offer stability on your run. Whether you are in search of a minimalist running style shoe, a zero drop running shoe, or one that provides you with the right amount of traction it's a sure bet you can't go wrong with Inov-8.
---
Our Criteria for Picking the Best Inov 8- Running shoes
Comfort – Stability – Durability – Quality
We want you to have a choice of running shoes which far exceed the choices back in those very ancient pre-historic times when going for a run meant wrapping some buffalo skin around your foot.
We looked at comfort & Stability and this criteria is broad, we wanted to know the following:
Does the sole provide any shock proof qualities, comfort and stabilizing assertive tech and if so we wanted to know, how?
Does the midsole have tech which promotes comfort and assists stability?
Is there any tech designed into the shoe to provide comfort and stability for the foot arch?
In terms of providing stability and comfort how flexible ( or rigid) is the sole and the overall shoe structure?
Does the shoe toe-box  allow toe flexing for stability and comfort and the overall shoe design allow for foot swelling?
Which tech is engineered into the shoe for comfortable stable good cushion effect?
Is the shoe designed with materials which enable comfort through air breathability and wickability?
Is the shoe height and the heel system conducive towards stability & comfort?
We looked at quality and durability:
Are the materials in the shoe durable, can they withstand and last through the challenges met while running tough often rugged terrains in all types of weather condition?
Quality was interesting to look at, their are some manufacturers that can make a product look very good but in reality they choose low quality materials in the construction, low quality for trail running shoes can result in injury and at the very least, disappointment. The shoes don't live up to the challenge and fall apart, you invest only to find that within a very short time you have to go out and spend money again.
For quality our over riding indicator in the review was to look for the use of quality materials which provide longevity, protection and serve towards the factors of stability, durability and comfort. We can conclusively say that we found all these factors present when we reviewed Inov 8 running shoes.
See How Footwear Has Evolved Throughout Time
Shoes are incredibly interesting, without the invention of shoes you would not be reading this article right now and you would not be enjoying the physical and psychological benefits which we get from regular running.
Let's take a very quick look at the history of shoes, when did we first start wearing them and how did they evolve into the shoes which we wear today?
First humans, BAREFOOT and mobile.
Pre-civilzation, tie animal skin around the foot to protect it from biting insects, sharp stones and stinging plants.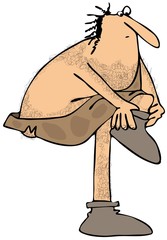 Footwear in early civilizations, basic hand made sandals.
16,000 BC Mesopotamia, soft shoes made by the mountain people, made from wraparound leather.
Right up to 1850 all shoes,no difference between the left and the right shoe.
Wearing shoes creates changes in toes. Shoe with toe morphology found in an ancient cave in Fangshan, China,dated to around 40,000 years ago.
27, 000 ago. Grotte de Fontanet located in La Belle, France, fossilised footprint, a moccasin
27,500. Skeleton, Sunghir very ancient Upper Paleolithic  cave site, Russia. wore foot protection.
9000   Paleoindian  proof for foot protection, American southwest.
8,300  Chevelon Canyon early sandal.
 8,600, Sandal, Daisy Cave, California.
Let's jump forward thousands of years……………………..
Shoes were made by hand and could not be mass produced for the greater population, things had to change.
1858. Lyman Blake invented a machine for sewing seams. This meant shoe seams could be sewn quickly.
A few years later. Jan Matzeliar, automatic shoe production.
1800,  Soles made from rubber, the plimsoll.
 1917,  canvas-top sneakers
1989,Rubber heel invented, American  Mr O'Sullivan.
Fast forward 2017
You think of a shoe style and purpose and it exists somewhere in the world, we produce shoes for every purpose, even walking on the bottom of oceans or the surface of the moon. We have come very far from the days where we sat in a cold cave and wrapped animal skin around our feet. Think about this next time you slip on a quality pair of running shoes and  hit a wilderness trail.
FAQ
Q: Which is the best season for trail running?
A: Like the song says, some like it hot, some like it cold and some like it in the middle. The seasons come in variations, it depends on what you want, dry dusty trials, firm surfaces or wet mud, snow etc. Read a review about trail running.
Q: Which size lugs are best for trail running?
A: Durable lugs are designed for different surfaces and come in different shapes and sizes. You need to consider which surface and then read runner click reviews.
A: This really depends on what individualistic runners are looking for, there isn't a set answer.
Q: Is bare foot trail running popular or even possible?
A: The answer to this is very broad. Read HERE to fully understand.
Q: Is mountain trail running very different to other types of trail running?
A: Yes very different and incredibly exciting. Read this review its very interesting.
---
Check out a few of our sources:
Subscribe to our newsletters