12 Best Running Weights Reviewed & Compared
0
Running isn't the only form of exercise that athletes have to think about these days, you can add running weights to your normal workout or running routine. When adding running weights to your workout it can have a huge effect on your muscle tone, strength, balance, and overall fitness. Running weights develop additional fitness benefits as the added weight can build up muscle strength, burns more calories, and increases heart rate.
When using these running weights, runners are advised to follow the approved guidelines to gain these benefits and avoid any possibility of injuries. There are so many different running weights out there on the market it can be a little bit difficult to determine which is the right one for you. This is why we've put together a list of the 12 highest rated running weights to help you narrow down your options and find the right running weight for you and your workout.
Valeo Adjustable Ankle/Wrist Weights

Our rating
Multiple weight availablke
Price:

See Here

Nayoya Weights Set with Pouch

Our rating
Soft, comfortable material
Price:

See Here

All Pro Adjustable Ankle Weights

Our rating
Achilles tendon protection
Price:

See Here

12 Best Running Weights
1. Valeo Adjustable
These best-selling weights are perfect for anyone who's looking for a versatile,
multifunctional
product. With a double strap closure, you can comfortably run knowing that these weights are going to stay securely in place. One size fits most.
Expand to see more
Weight
These Valeo weights comes with removable weight packs for adjustment from 4 to 20 pounds.
Comfort
These weights are padded, so you don't have to worry about them
irritating you skin
or being uncomfortable. An adjustable D-ring double strap closure system is in place to ensure you maintain a snug, customized fit.
Cost
These Valeo weights are very affordable given their high quality. A manufacturer's warranty is included.
Can be easily cleaned with warm soapy water
Softly padded
Multiple weights available
Warranty included
Stay securely in place
Some find them to be too big to fit tightly around the wrist.
2. Nayoya 3 Pound Set with Carry Pouch
These high-quality weights are a simple way to increase the value of your
workout
. Premium material and heavy-duty padding ensure you the most comfortable wear possible.
Expand to see more
Weight
These Noyoya weights, sold in pairs, each weigh 1.5 pounds.

Comfort
These weights were designed to provide a superior fit. Crafted with premium neoprene and soft, moisture-absorbing material, you'll never have to worry about discomfort. These weights securely fasten in place with an adjustable strap so you can effortlessly achieve your desired fit.

Cost
These weights are very inexpensive, although they are only 1.5 pounds each.
Easy to adjust
Included carry pouch with purchase
Moisture-absorbing
Non-abrasive material
High-quality construction
Comfortable
Soft material
Padded
Some runners have reported experiencing skin irritation from the Velcro closures.
Only available in one weight
3. All Pro Adjustable
The All Pro Adjustable Ankle Weights, sold in pairs, are specially designed to allow a full range of motion while wearing. Adjust the amount of weight to achieve the level of resistance you want. One size fits most. A touch fastener closure secures the weights tightly in place.
Expand to see more
Weight: These weights are available in four different sizes. You can either purchase a pair with 2.5lbs per ankle, 5lbs per ankle, 10lbs per ankle, or 20lbs per ankle. Durable iron weights are able to be adjusted in small increments so you can receive the exact amount of weight you're looking for.

Comfort: With soft padding, you'll never have to worry about these weights being uncomfortable around your ankles. The flaps are cushioned to ensure that the weights stay securely in place. Constructed with ContourFoam, these weights are designed to fit you perfectly.

Cost: These ankle weights are slightly more expensive than others on the market.
Adjustable
High-quality construction
Weights are made of durable iron
Affordable
Achilles tendon protection
ContourFoam cushioning
Secure fit
Some runners find that they do not fit as securely as they would like.
4. Nordic Lifting
These adjustable weights are able to be used as either
ankle
or wrist weights. They're ergonomically designed for superior durability and use reinforced stitching to ensure that no tears occur. These are definitely a must-have for any runner or workout enthusiast! One size fits all.
Expand to see more
Weight
These Nordic weights, which come in pairs, are available in either 1, 2, or 3 pound versions. They even have a
reflective
trim on them, making them perfect for safe outdoor use.
Comfort
Neoprene padding protects your ankle or
wrist
while providing you with a soft, comfortable fit. Reinforced stitching. A large Velcro pad enables you to switch them easily from ankle to wrist while still maintaining a secure fit.
Cost
These weights are one of the most affordable models on the market. They also come with a one year manufacturer's warranty. High-quality construction.
Includes carry bag
Durable
Fully adjustable
Comfortable
Reinforced stitching
Price
Warranty
Some runners experience issues with fit, mainly due to the length of the strap.
5. Da Vinci
These Da Vinci adjustable weights, which are sold in pairs, were designed with ease of use in mind.
Expand to see more
Weight
These are available in weights ranging from 1 to 5
pounds
.
Comfort
Soft, cushioned material on the interior is designed to not only provide comfort, but to also absorb moisture. The Velcro tightening bands can be expanded out or brought in to fit a wide variety of ankle and wrist sizes. The exterior is made of a soft cloth which stretches when the Velcro is tightened, ensuring the weights stay securely in place throughout your run.
Cost
These weights are one of the most affordable models.
Available in multiple colors
Moisture-absorbing
Adjustable
Available in multiple weights
Price
Some runners find these weights too big and bulky to be used as wrist weights.
6. Yes4All Comfort Fit
These weights are designed for both
comfort
and durability. With a neoprene exterior and a sturdy outer trim, you can be sure that they'll hold up even through your most intense workouts.
Expand to see more
Weight
These ankle weights come in a pair. A variety of weights are available, ranging from 1 to 3 pounds. They increase in increments of .5 pounds.
Comfort
Yes4All designed these weights to hold up through even the
most intense workouts
. With a D-ring and an easy to adjust wide Velcro strap, you'll receive the best fit possible.
Cost
These are quite affordable.
Multiple weight and color options available
Durable
Adjustable Velcro
Reinforced stitching
Versatile
Comfortable
Snug fit
Some experience skin irritation from the strap.
Some find that they are too small for men's ankles.
7. Thera-Band Comfort Fit
These Thera-Band weights are one of the most frequently recommended by physical therapists and are a great choice for those looking to improve their balance or
stabilization
. They even have reflective trim for added safety for
night runs
.
Expand to see more
Weight
These Thera-Band weights, sold in pairs, are available in either 2, 3, or 5 pound versions.

Comfort
The interior is made of soft terrycloth, which is designed to absorb moisture and be non-abrasive. With an adjustable strap crafted to conform to the shape of your ankle or wrist, you'll receive the most comfortable and customized fit possible.

Cost
These Thera-Band weights are priced in the mid-range.
Moisture-absorbing
Non-abrasive
Adjustable for a customized fit
Reflective trim
Soft terrycloth interior.
Some find them to be too bulky.
8. Zensufu Ankle/Wrist Set
These versatile, multifunctional weights with colored accents can be worn either around the ankles or around the wrists. With colorful accents, durable fabric, and an affordable price, you can't go wrong with these Zensufu weights. They even come with a carrying pouch for travel or storage.
Expand to see more
Weight
These Zensufu weights, sold in pairs, are available in weights of 1, 2, 3, or 5 pounds.

Comfort
The padding in these Zensufu weights makes them so comfortable, cushioned, and soft that you'll have no issues with discomfort at all. The adjustable Velcro strap securely holds each weight in place to ensure a secure fit.

Cost
These are very affordable.
Included travel pouch with purchase
Adjustable
Easy to take on and off
Available in multiple weights
Durable fabric
Comfortably padded
Price
Some runners find that the material tears easily.
Some find that they don't fit very well on small ankles.
9. The Original Cuff Ankle and Wrist Weight
These weights are designed with durability and
flexibility
in mind. With reinforced stitching and an extra-long closure strap, they're able to fit essentially any size body comfortably.
Expand to see more
Weights
These weights, sold as singles, are available in weights ranging from .25 to 25 pounds. Each weight level is color-coded and marked in kilograms as well as pounds.

Comfort
Designed to be flexible and snug-fitting, you can wear these weights on your ankle, wrist, or even thigh. The closure strap is long so that you can adjust it for a customized, secure fit even through vigorous activity. The external vinyl material makes them easy to clean.

Cost
These weights are priced on the high end considering that they do not come in pairs.
Wide variety of weights to choose from
Easy to clean
Reinforced stitching for durability
Flexible
Snug, comfortable fit
Extra-long closure strap
Grommets to hang on mobile rack
They are sold separately rather than as a pair.
10. GoFit Adjustable Ankle set
GoFit has been a trusted manufacturer of
workout equipment
for nearly 20 years now. These weights are a great way to add efficiency to your normal running routine. With a philosophy of "Train, recover, repeat," you can expect to get great results from their products.
Expand to see more
Weight
These weights, sold in pairs, are available in either 5 or 10 pound versions. Removable sandbags inside a zipped enclosure make it incredibly easy to adjust the weight. Each iron sandbag weighs 1 pound.

Comfort
The polyester body of these weights is crafted for both comfort and durability. Velcro fastening straps ensure that the weights stay snugly yet comfortably in place while you run. Heavy-duty plastic D rings fasten the weights securely around your ankle.

Cost
These are one of the most affordable models on the market.
Available in multiple weights
Adjustable
Velcro straps designed for security
Durable
Flexible.
Weight can be adjusted in 1 pound increments
Price
Some runners find that these weights don't stay in place very well.
11. Kiefer Ankle Weights
These weights are workable for both ankles and wrists and can be used for running, other outdoor sports and even in water for swimming.
These weight sets can even be clipped to one another so that a weight belt can be made and used for
working on core strength
.
Offered in a nice range of colors and the following sizes and weight:
1 - 1.5 - 2.5 - 3.75. Up to a maximum weight of 5ilbs.
Comfortable, durable neoprene case with a soft feeling against the skin and for secure FIT a reliable strong Velcro buckle system.
Expand to see more
Weight
These weights sets come in a total max of 5lbs and are for runners looking for a weight above the widely used 3lb weight, the extra weight to be used with good guidelines in order to gain the
benefits achieved from training with weights.
Comfort
The weight casings are constructed from Neoprene which has good durable qualities while also
feeling comfortable against the skin
, secure FIT is achieved through fitting to the ankle with a Velcro closing system
Cost
A standard price for a durable weight system which can be used by runners.
Can be used for ankles and wrists.
Can be built into a training belt
Neoprene Case
Velcro Fastener
Can be used in water
Follow approved training plans when using weights
12. Adidas Adjustable Ankle Weights
The set/kit is adjustable and can be customised by the wearer for wearing on the ankles or wrist.

Build and tone your muscles through gradually increasing the weight challenge of your workouts.

These give a secure and snug hold/FIT via a Velcro wrap and hold system, it is noted hold issues existed in the past and this has been addressed and updated.

The weights are offered with weight packets at 0.25 kg which can be adjusted for different resistance levels up to 2kg per strap.
Expand to see more
Weight
You can build up to 2kg onto each of the straps as you gradually
build up your stamina
through gradually increasing the intensity level of your training sessions.
Comfort
The weights provide a strong velcro fastener and padded soft casing for a comfortable fit.
Cost
Affordable, within a reasonable budget range.
Padded casing for comfort
Can build up to a total strap weight of 2kg
Velcro fastening system
Pay attention to ensuring fastening system is secure
The Criteria We Used For Our Evaluation of the Best Running Weights
There's a lot of thought, research, and product comparison that goes into deciding which weights deserve a spot in the "top 10."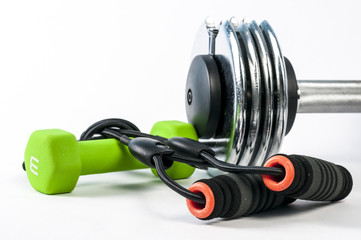 There is a specific set of metrics that we used when determining which products made it to the list and which didn't. The metrics we used are based on verified customer reviews and product information. Below, we'll explain in depth the factors we used when generating our list.
Comfort is important
Obviously, this is one of the main factors you want to consider. If you're not going to be comfortable, your run's not going to be enjoyable and it's likely that your running weights will just end up in a corner somewhere. You want to look for an option with padding, but not too much padding. Foam padding is a good choice, as it's flexible yet supportive. The material needs to move with you and not be restrictive in any way.
The fastening system is an important factor to look at in regards to comfort. You want something that's very adjustable, Velcro is a good choice, as long as it's good quality. Poorly crafted Velcro can irritate the skin and fail to give you a tight, secure fit.
If you experience discomfort while wearing a pair of running weights, it's probably a good idea to re-evaluate your choice and choose from one of the products listed above. You don't want to end up with skin irritation or chafing! We gave heavy consideration to the level of comfort of the products on our list.
Durability
Since these weights are going to be with you through vigorous runs and workouts, you need to make sure they can hold up. Let's face it, anything you use during your workouts has the potential to suffer from some wear and tear.
Many running weights on the market today use reinforced stitching, which is a very important factor in durability. Reinforced stitching means the fabric is very unlikely to tear or rip. This is especially important when it comes to running weights, as many of them contain sand. The last thing you want is to have that sand spill out! You'll have a mess on your hands, plus, you'll need new weights. So, don't forget about the importance of reinforced stitching!
If you're going to be running outside with them, keep that in mind when making your decision. You'll want to look for something that can withstand wide range weather conditions, such as something made with the water-repellent material.
Adjustability
Typically, you're going to want to find something with adjustable weights. While many of the models on the market today are capable of this, there are some that still aren't. Having the ability to switch up the amount of weight you're using is great for adding variety to your workouts. Being able to change between levels of resistance and intensity is one of the most desirable traits sought after by customers. Chances are, you're going to want to be able to add or take away weight depending on the duration of your run, which muscles you're trying to target, and other factors. You want to look for something that says "weight adjustable." Many times this is in the form of removable sandbags.
Materials
While this may not be a factor that you initially think of, it is an important one to keep in mind. The material determines durability, flexibility, and comfort. Typically, you're going to want to look for something that uses premium nylon or neoprene. Not only are they designed for comfort, but they easily wick away moisture and sweat, ensuring that your ankles or wrists stay dry.
You should be able to maintain natural movement and not feel hindered in any way. Obviously, your legs are going to feel different when you strap weight to them, but you shouldn't feel like you're restricted in your movement. Some models have reflective strips stitched on to the exterior material, which is a great thing to have for added safety if you're going to be running outside in low-visibility conditions.
Other Important Factors to Consider When Searching for the best choice for you
While the factors above are the main metrics we used in our evaluation, there are other details to consider that can sometimes be overlooked. By taking just a few extra minutes to review some other details, you're ensuring that you make an educated purchase in selecting the weights that are right for you. Remember to keep the following in mind when shopping around or researching particular products:
While many running weights are advertised as "one size fits all," it's not uncommon to read customer reviews stating that they were disappointed with the fit. This is an especially important factor to think about when purchasing a set of running weights that is intended for both ankle and wrist wear. While many of these types of weights fit most people's ankles well, there are typically some complaints about them being way too bulky for the wrist. To reduce the chance of you having the same experience, if you're looking for an ankle/wrist set, you'll want to find something with a long, adjustable strap with a very secure fastening system.
Additionally, some find that certain brands, especially those catered towards women, fit too tightly. Everyone's body is different. Always read product information to find exact measurements, so you can be sure before you order that they're going to be a good fit for you.
When selecting a set of running weights, take your budget into account. While it can be tempting to just buy the least expensive ones, you want to make sure you're not compromising on quality. On the other hand, don't assume that the most expensive ones are necessarily the "best." Make sure you're not just paying a hefty price for the sake of the brand's name. Essentially, use your best judgment when comparing products, and really take the time to weight out the pros and cons of each. We guarantee you'll be able to find a happy medium that gives you what you're looking for but doesn't break the bank. In the long run, you want something that's going to hold up through the miles.
Sold in pairs or individually?
This is a factor that can easily be overlooked, as many customers assume that all weights are sold in pairs. While it's true that most are, there are still some brands out there that sell their weights individually. If you read customer reviews on these products, there are a lot of customer complaints saying that they didn't realize they were sold individually. So read product descriptions carefully; don't assume.
Many running weights on the market today are brightly colored and made to look visually appealing. While visual appeal certainly affects sales, you shouldn't pick one product over another just because it looks nicer, more modern, and more colorful. Sometimes the most basic-looking product gets the job done best. That's not to say this is always the case, but it's just an important thought to keep in mind. The priority should always be the function.
FAQ
Sometimes, you might not even realize that you have a particular question until you see it asked by someone else. We've comprised a list of the most frequently asked questions that customers have had.
Q: Does holding weights let me run faster?
A: The answer to this is the third law of Newton. each action has an equal and opposite reaction. Imagine you are holding a weight in your left hand, as you push the weight forward, it will push back with an equal force, the result is you spend more energy on acceleration. When the weight reaches fully forward, it will momentarily stop before returning back, as your arm pulls the weight back, the weight will give you a forward pull so that you gain a feeling of your momentum being assisted.
The force you use to move the weight reflects back to you, so when you pull the weight all the way back and you start to move forward, it will push you back again, this will be detrimental to your momentum forward.
The result is for each running step which you make, you expend more energy and this does not assist your speed.
Q: What will wearing ankle weights do for my legs?
A: Firstly in relation to your body size choose a pair of ankle weights which are not too heavy. The weights will push your muscles to work harder and this leads to faster growth of muscle, muscle strength will be built up in the hamstrings, glutes, and quadriceps. You will also gain a higher burnup of calories and an elevated heart rate.
Q: Who should use ankle/wrist weights?
A: Adding resistance to your workouts through the use of ankle or wrists weights is a great way to get the full benefits of exercise. They're helpful for runners, weightlifters, swimmers, and even just casual walkers. Their versatility makes them multifunctional across the board. Unlike heavy workout equipment, these weights are portable and convenient, so you can use them at home, outside, on the treadmill, or at the gym.
Q: What muscles do ankle/wrist weights tone?
A: This is a very commonly asked question. Ankle weights are great for targeting a wide variety of muscles, in particular, the quadriceps, hamstrings, and glutes. You'll also get some toning benefits in the thighs. Wrist weights help build the biceps, triceps, and shoulders.
Q: What are the benefits of using weights while running?
A: No matter how or where you're using your weights, your body receives a huge variety of benefits. They're a great simple way to increase resistance while exercising, which in turn improves your overall strength. Also, they're extremely versatile. Versatility is a great trait to have with any workout equipment. They build muscle, add value to your workout, improve cardiovascular health, boost metabolism, and improve endurance. Recently, they've become quite common for swimmers to wear as well, as the resistance they provide is extremely beneficial.
Q: Are there any dangers of using ankle or wrist weights?
A: Just like with any workout equipment, it's important to use them properly. Using weights and any other form of resistance, which puts additional strain on the joints, can lead to injury if they're not used properly. To avoid this, make sure you warm up thoroughly before your run, always make sure they're securely fastened, and most importantly, use the proper amount of weight as per your fitness level.
So there you have it, our tried and true method of finding the best possible products on the market. Remember to keep these factors in mind and always read customer reviews. We hope you've found the information above to be useful in choosing the running weights that are best for you. With so many options out there, it's so important to do your research.
---
Here are some sources we used while conducting our research:
We've listed the sources below that helped us during our research. We strive to provide the best information to you, the reader, and search not only clinical sources but brand specs and manufactures. We also took into consideration everyday users and the pros & cons they ran into. We hope you found this data helpful! Happy running!
Subscribe to our newsletters