10 Best Tasting Protein Bars Tested & Compared
1
Protein is an essential macronutrient that allows our muscles to heal and builds up our overall health. Protein bars are a convenient and quick source of protein that you can take with you on the go—whether you're running, hiking, or partaking in other sports.
Protein bars allow you to ensure you are providing your body with the appropriate amount of protein your body needs on a daily basis—and for runners, this is particularly important!
With all of the options available, we have taken the time to find the best tasting protein bars available—so you can pack in the protein without having to sacrifice taste!
Rise Almond Honey

Our rating
20 grams of protein
Price:

See Here

Larabar Gluten Free Coconut Cream Pie

Our rating
Carbs to Sustain Workout
Price:

See Here

Detour Simple Chocolate Chip Caramel

Our rating
10g of protein
Price:

See Here

10 Best Tasting Protein Bars
Rise Almond Honey
This bar is made of strictly 3 ingredients. Making it organic, healthy--and we can't forget to mention delicious. It's Non-GMO and the perfect option for those of you looking for a healthy option to add into your daily diet.
Expand to see more
Taste
This bar is made of honey, whey protein, and almonds. It has some sweetness to it but not overly sweet. It's a great option for those of you looking for something who isn't too sweet.

Nutrition
Made with just 3 ingredients, this one has 20 grams of protein, is GMO, and gluten/soy/peanut free.

Cost
A bit pricey, but well worth the cost if you are looking for a healthy and organic option.
• 20grams of protein
• No added sugar
• Non-GMO
• Only 3 ingredients
• Gluten, soy, and peanut free
• Not sweet enough for some people
Larabar Gluten Free Coconut Cream Pie
This Gluten-free coconut option is one of the tastiest on our list. This brand is known for their great taste--and are highly popular among all runners and athletes.
Expand to see more
Taste
If you don't like coconut then you won't like this one. However, if you're looking for something to quench your sweet tooth then this is a perfect one.


Price
These are highly affordable and taste great.
• Gluten-free
• Non GMO
• Vegan
• Tastes great
Detour Simple Chocolate Chip Caramel
This is the best affordable protein bar out there. They are made of real, NON-GMO ingredients that provide you with the macronutrients you need.
Expand to see more
Taste
This one is sweet but not overpowering. It isn't as bland as the first option and will definitely give you your sugar fix.

Nutrition
One of these bars gives you 10 grams of protein, 3 grams of fiber, and only 2 grams of sugar. They are gluten-free, Non-GMO, and only 110 calories.

Cost
These are a bit more affordable then other options on our list
• Non-GMO
• Affordable
• 10 grams of protein
• Gluten Free
• Still not sweet enough for those who like their protein bars really sweet
Grenade Carb Killa Caramel Chaos
This has 23g of protein from mainly milk-based sources. It has a triple-layered caramel flavour and a nice crunchy texture. This is sweetened mainly from artificial sources and has only 1g of carbs.
Expand to see more
Taste
With three layers of tasty caramel, crunchy crispies and a chocolate coating, this is certainly a yummy one. It's somewhat similar to a Snickers, and the caramel is really rich, which complements the crunch and savory flavor of the nuts. There's also a little bit of a cookie dough vibe going on with these, both in taste and texture.

Nutrition
23g of protein with 210 calories is pretty impressive, and the low carb approach may appeal to some. That said, it's of note that this is artificially sweetened. There are some unnatural ingredients here, but not as many as with some other protein bars.

Cost
Quite pricey!
Calorie-to-protein ratio is great
Great flavors
Texture-wise, perhaps the closest to a real candy bar
Low carb
Artificially sweetened
Some unnatural ingredients
A little pricey
Quest Nutrition Apple Pie
Another one from Quest, and it's somewhat unique, with an unusual apple pie flavor. They have a great taste and aren't your typical chocolate-based affair. These have 20g of protein and they contain real apples!
Expand to see more
Flavour
If you like apple pie, you'll like these! They genuinely taste just like apple pie, and are a great alternative if you're looking for something a little different. Many people claim that these are one of the tastiest bars on the market, with some people even comparing their flavor to that of McDonald's apple pies. They have a nice subtle hint of cinnamon and a chewy texture.

Nutrition
These are whey-based and sweetened with artificial sweeteners. They have many natural ingredients and the protein content is about what you'd expect. They have a pretty low calorie count of 190 calories per bar and are gluten-free and soy-free.

Cost
Slightly pricey, but only marginally so.
Good alternative to the typical flavors
Really genuine apple pie flavor.
Decent calorie-to-protein ratio
Good texture
Soy-free and gluten-free
Clif Chocolate Mint Builder
This is one of the ever-popular
Clif Bars
. These are probably the best-tasting of the whole Clif bunch, with a somewhat unusual mint chocolate flavor. They have 20g of protein per bar, non-GMO ingredients, have loads of added vitamins and minerals and are soy-based.
Expand to see more
Taste
Really delicious! These are sweet and creamy with a nice refreshing mint kick to complement the creaminess of the filling and the sweetness of the chocolate. It's not too sweet, so you can easily grab one for
breakfast
or as a snack. The texture is pretty good too, with no graininess and a nice creaminess which is often missing from protein bars.
Nutrition
20g of protein and 270 calories per bar, 21g of sugar and absolutely packed with added vitamins and minerals. If you're looking for something fairly natural, this is a decent option with the added nutrition and the lack of artificial sweeteners. Yeah, there is quite a lot of sugar in this, but it's nowhere near as bad as some others on the market. There are no GMO ingredients in this.
Cost
These come in at a pretty decent price!
Fairly low-cost
Mostly natural ingredients
Unusual flavor, perfect if you're seeking something different
No artificial sweeteners
No GMO ingredients
Loads of added vitamins and minerals
A little high in sugar
Soy-based, which some people don't like
Optimum Nutrition Birthday Cake
These have the unique flavor of birthday cake and a different texture to most bars, with a whipped center. Each pack has 20g of protein and contains three mini bites from a whey-based source.
Expand to see more
Taste
These have a great flavor and rank here mainly for their unusual taste and texture. They don't taste exactly like birthday cake but they bear a good similarity and the texture is nice, with something between the typical density of a protein bar and the whipped texture of a mallow cake. The flavor is a little milder than some other protein bars, but it's still a lovely snack.

Nutrition
Per bar, you have 240 cals, 20g of protein and 5g of sugar, which means that some of this is artificially-sweetened. There are quite a few artificial things packed into these, including artificial colors.

Cost
These run about average for protein bars.
Unique taste and texture
Each pack has three mini cakes, which can make for a smaller snack if you so wish
Low sugar
Artificially sweetened
A slightly milder flavor than some other protein bars
Oh Yeah! Peanut Butter Crunch
This one has the lowest protein content on the list with 13g and 190 calories per bar, but it's still a yummy addition! It is fairly low-carb and the protein comes from a combination of whey and soy. It's gluten-free and fortified with lots of vitamins and minerals.
Expand to see more
Taste
Another delicious one, and another peanut-based bar. You may have noticed that lots of these are nut-based, but these often are the tastiest of the bunch. These are pretty comparable to a Payday or a Snickers, with actual chunks of peanut and cookie and a rich caramel flavor. The texture is a nice combination of soft inside with the crunch of the cookie and peanut pieces.
Nutrition
Although they have only 13g of protein, the calories are pretty low, so you could feasibly have a couple of these if you're
feeling hungry
and really craving plenty of protein. They are, however, unfortunately packed with quite a few non-natural ingredients.
Cost
Very slightly cheaper than your average bar.
Really comparable, in terms of taste and texture, to candy bars
Maybe the best texture of the bunch
Fortified with vitamins and minerals
The lowest protein content on this list
Some unnatural ingredients
PureFit Peanut Butter Chocolate Chip
These ones are a particularly tasty peanut butter chocolate chip flavor containing soy-only protein, which makes them perfect if you happen to be vegan or lactose intolerant. They have quite a unique texture, almost like cookie dough, but still with the nice density which is so common in protein bars. They have a
protein
content of 18g per bar.
Expand to see more
Taste
These have a lovely flavor! Like most of the best protein bars on the market, they replicate a candy bar flavor, which makes them not only healthy but also a delicious, guilt-free snack. Many users have commented that they actually prefer these to standard candy bars, which is a great compliment. The peanut butter flavor is really nicely balanced out with the chocolate chip flavor, and there's not too much sweetness, so they're not cloying. When they say the taste like peanut butter chocolate chip cookie dough, they really do!

Nutrition
These don't have as much protein as some others on this list, but otherwise, nutritionally they are fantastic. They are vegan-friendly with no whey content, and are gluten-free and non-GMO. They have no artificial sweeteners and omit a whole load of the additives and extras that you might find in other protein bars.

Cost
They are a little pricey, but not outrageously so.
Great flavor
Not too sweet
Vegan-friendly and gluten-free
One of the best on the market for an additive-free snack with sensible and healthy ingredients
Not as much protein as some others on the list, though 18g is still pretty good.
These are soy-based, which some people don't like.
These have 21g of protein and only 1g of sugar. Again, the taste here is great, and it's another bar with a chocolate and cookie-based flavor, which is perhaps the most common flavor on the market.
Expand to see more
Taste
Absolutely great flavor, these legitimately just taste like cookie dough, so it's a great way to have that homely treat with
a guilt-free protein fix
! They might be a little too chalky for some, as the texture isn't as good as some others, but they are overall a nice bar. They're not too sweet and offer a reasonably nuanced flavor.
Nutrition
These are made with artificial sweeteners, which might be a concern for some. They are gluten-free and soy-free and contain real chocolate along with some other natural ingredients. They are very low in sugar and the protein content is around average for a protein bar.
Cost
These are around an average price for a quality protein bar.
Lovely genuine cookie dough taste
Decent amount of protein
Soy-free and gluten-free
These are artificially sweetened.
The texture isn't as good as some others here, with some chalkiness.
So, there you have it! Our list of some of the tastiest bars to get your protein punch. Happy munching!
Exercise and Protein go hand in hand–take a look at the criteria we looked at when compiling our list of the top ten best tasting protein bars, then make sure to check out our article to learn more about the importance of protein.
What We Looked At When Reviewing The 10 Best Protein Bars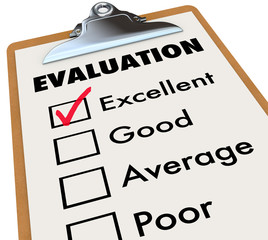 Protein is a component of a runner's diet which is why we took the following factors into consideration when putting our list together.
Taste
Given that this is list is about the top 10 best tasting protein bars out there, this factor comes to no surprise. We made sure to include options for everyone and we singled out products from each brand to highlight their most recommended flavor. Many protein bars end up being too sweet because they are packed with unnecessary sugar while others have a chalky taste thanks to their calcium content. Our list contains an option for everyone–from those of you with a sweet tooth to those of you who prefer minimal sweetness packed into your bar.
Protein Quantity
This is important because it pertains to how much or how little you work out. Those of you who participate in extreme physical activities will need a protein punch while others may just need something to fill them up and help them attain their macros for the day. Protein quantity, along with the source of protein, also affect the taste of the bar so it's important to factor this in when searching for the best-tasting pars.
Minerals and Vitamins
Here we looked at what additional vitamins or minerals a bar contains, how they interact with your protein consumption, what their benefits are, and whether or not they are useful.
Carbohydrates
What types of carbohydrates are in the bar and in what amounts? Carbohydrates give energy so after a tough run, it must feel nice to be given a boost of energy. We wanted to know how effective and useful the inclusion of any carbohydrates will be and if this had any impact on the cost of the bar or the amount of protein?
Non-GMO
We always try to provide you with the best products that means looking at our products closely. While we know many runners and athletes don't take this into consideration, we do strive to provide organic food products that are Non-GMO.
Sugar and Artificial Sweeteners
Sugar content is important because some products have way too much. Here you need to consider how sweet you prefer your products as well as your personalized daily nutrients. As far as artificial sweeteners we know that many people try to steer clear from them–I personally steer clear of them myself. There are many side effects linked to their consumption and real sugar has been shown to be better for our bodies (in moderation of course!)
Packaging
A surprisingly interesting point for reviewing among the different bars, have you ever had a bar of chocolate or candy and you found it a frustrating struggle just to open the package? We looked at how protective and insulation for the packaging is and how easy it was to access the bar packed away inside it.
Cost
Here we took a look at whether or not the product was worth the cost as well as the benefits they provide. Keep in mind that when it comes to nutrition, healthier products tend to cost a bit more.
Everything You Need To Know About Protein.

On average we need 0.8 grams of protein per kilo of bodyweight on a daily basis– high-intensity athletes will need between 1.2-1.6 more grams per kilo. of protein for each kilo of our own body weight, general high activity athletes need around 1.2 up to 1.6 grams. The right amount of protein will help our muscles recover faster and as well as help us perform better. Keep in mind that you should always consume protein within 30 minutes of your workout.
When it comes to protein, it's also important to make sure you are spreading your protein intake throughout the day and ensuring you are also taking in the right amount of carbohydrates and fats throughout the day–the latter is never a problem for the high carb and fat diet that most Americans follow.
So why is protein so important?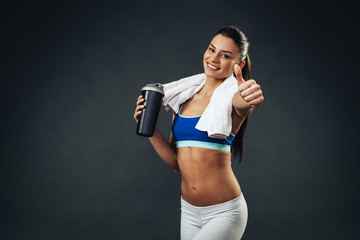 There are many ways to consume the appropriate amounts of protein.
Protein helps your body repair its tissues as well as services your blood, skin, cartilage, muscle, and helps maintain your bones. It also helps your body produce the enzymes it needs, helps it carry out various bodily processes, and helps keep your hormones in check.
Adequate protein intake also applies to vegetarians and vegans as well–and lucky for you we have made sure to incorporate options that suit your needs as well.
Our bodies run macro-nutrients (Protein, Carbohydrates, and Fats) and combined with micro-nutrients (vitamins and minerals) your body will be a lean, mean, running machine. While we can store the carbs and fats, our bodies do not store protein–which is why we need to consistently replace it.
Awww c'mon this is confusing? Just tell me straight, how much protein do I actually need?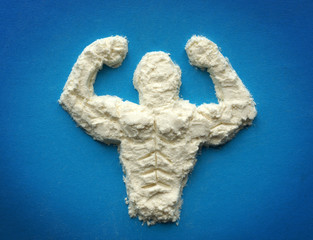 This depends on your level of exercise and your fitness goals. Bodybuilders will need much more protein then tall, lean muscles–so make sure you are taking in the right amount for you.
Here is a quick breakdown of how much protein you really need.
Children need two meals each day 5 ounces of protein between the two.
Men need 7 ounces spread between three meals.
Women need 5 ounces spread over two meals.
Older adults need 5 ounces spread over two meals.
Active women and teenage girls need 6 ounces spread over two meals.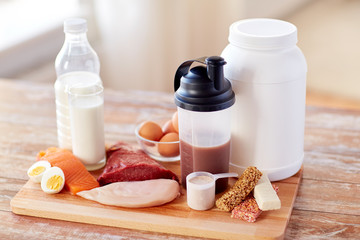 There are tons of options for meat eaters, vegetarians, and vegans.
Would you believe one slice of whole wheat bread will give you 3 grams of protein!
Nuts and nut butters–almonds, for example, provide you with 6 grams of protein with every once ounce serving.
Legumes, such as beans are jam-packed with protein–soy and soy products, like tofu, are also an excellent option for vegetarians and vegans.
Fish provides you with Omega 3 Fatty Acids and other seafood products are also packed with lean protein.
Chicken, Turkey, beef, etc are all packed with protein but make sure to not overdo it since some of these products can be loaded with saturated fat.
Next time you go for a challenging run and after or even during the run you reach for your protein bar or drink, you are doing the right thing, your muscles are in need of food and you have to feed them.
FAQ
Q: What is protein?
Protein is a necessary macro-nutrient our bodies need to function. Amino Acids are the building blocks of protein–these amino acids consist of oxygen, sulfur, hydrogen, carbon, and nitrogen.
Q: Why is protein important for runners?
Protein feeds our skin, blood, muscles, cartilage and encourages our body to create the chemicals and nutrients our bodies need. f you don't consume the right amount of protein you risk getting ill and not performing to the best of your ability.
Q: Will protein help our muscles recover quickly even if we run often?
Absolutely! If you consume the right amount of protein on a daily basis then it will absolutely aid in recovery.
Q: Do children need to consume protein?
Absolutely, they need a minimum of 5 ounces of protein a day.
Q: Can sugar or carbohydrates take the place of protein?
Absolutely not. Carbs are different macronutrients and are meant to provide energy. While they are important, they do not take the place of protein.
---
Take a look at a few of these great sources:
Subscribe to our newsletters