The Best Triathlon Gear Reviewed & Tested

0
An in-depth analysis of the best triathlon gear road tested in 2017. Great for expert and novice athletes alike.
A lot of runners are tempted to give triathlons a shot, and it only makes sense considering a third of the event is running. Brush up on your cycling and hone that swimming technique and voila! 
Here we look at 10 key parts of the kit which you will need, scroll down after the kit review to see a  Guide for those of you wanting to compete in Triathlons.
10 Best Pieces of Triathlon Gear
The thing is though, a triathlon requires quite a bit more gear and preparation than running does, this combination is your kit. You've gotta factor swimming in, plus a good bike and associated accouterments. There is no way for us to cover everything in a single post, so we won't try. Tri-related cycling gear it a topic(s) in and of itself. Rather what you'll find here is a few highlighted products (mostly accessories and clothing) we've found to be particularly useful when it comes to each aspect for the the triathlon.

Here is a quick check list for your full Triathlon kit.
1. Bike
2. Tri Clothing
3. Wet-suit
4. Swim Cap
5. Goggles
6. Lubricant
7. Running Shoes
8. Nutrition/Hydration
9. Helmet
10. Sunglasses
11. Sunscreen
12. Flat Repair Kit
13. Running Hat
14. Race Number Belt
Our Criteria for assessing the best choices of kit for triathletes

Our criteria had to have a focus while keeping in mind the wide choices of kit used by triathletes. Our focus was that you are entering a very challenging race and that you are probably entering with the aim to be "the winner" or at the least, in the top group of finishers.
Our first focus was to consider "value for money" being a triathlete requires investing in a broad range of products because you are covering swimming, cycling and running, this is not only three times the expenditure but it involves buying sports products which are often designed with the Triathlon in mind.
When we say value, we considered that for high performing kit you want reliability and high performance.
This means the brand names have invested research time and looked at creating a more specific product and this can often cost more.
Therefore, can the brand provide quality, durability, good performance, and feature innovative technology while staying within a lower affordable budget range.
The race factor was very important when we reviewed the different types of kit for triathlon, during a race there is no time for delay caused by kit which either fails to perform or does not hold true to the performances that it should be providing as this will result in delay and impact on your performance. If your entering the race with the intention to try and win, we made sure we looked at kit which will be reliable.
Importantly we stayed true to assessing the quality, the performance and reliability, durability and user friendly, comfort, weight, functionality and can the product genuinely meet the demands placed upon it by triathlon?
If your thinking of competing in Triathlon your first consideration is which type of Race?
DISTANCE RANGES FOR TRIATHLON RACES IN MILES, CHOOSE THE RACE FOR YOU.
The distance is in miles.
         The Events.                                Swimming.                               Cycling.                                Running.
| | | | | | |
| --- | --- | --- | --- | --- | --- |
| The  Mini Tri ( or Sprint) | | 0.24 | | 5-15.5 | 1-3.2 |
| The Olympic | | 0.93 | | 24.8 | 6.2 |
| The Half – Ironman | | 1.2 | | 56 | 13.1 |
| The Ironman | | 2.4 | | 112 | 26.2 |
How Did Triathlon Start?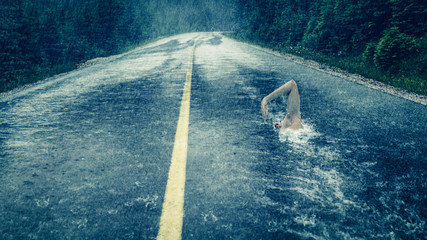 The ancient Greeks held sporting competitions which involved different sports activities combined together. However, these were not in the order of swimming, cycling and running, bikes were none existent back in those days.
Looking at the USA we can see a definite move towards combining three sports together in order to name it as one competitive sport.
In the early 1970s the Track Club in San Diego wanted to create an event more challenging than running hard track.
In 1974 on the 25th of September the club decided to sponsor a competitive event which covered an km cycle race, a 500 meter swimming race followed by a ten kilometer run.
It was clearly a very popular success which was repeated regularly and in 1989 the event was awarded Olympic status as an event and the first triathlon took place at the Sydney games, Australia.
Around 1989 the ITU – International Union for triathlon was set up in France at the city of Avignon, they introduced a 1,500 water event, a grueling 40 kilometer bike ride followed by a fast 10 kilometer run, these requirements were set to mirror Olympic level sports.
The feature of triathlon is that there is not a break between the three sports as part of the challenge is the rapid transition from one challenging sport straight into the next sport. This requires a high stamina level for athletes and very strong endurance ability.
Nowadays there are four variations for the competition ( as shown in the above chart) so people joining this sport can start at an easier level and work up towards the Ironman level.
For the Olympics they competitors start with a shorter swim just a distance of one and a half kilometers, followed by a tough forty kilometer bike ride and capped off with a tiring ten kilometer run, this combination would test the endurance and stamina of the fittest of people.
 Triathlon continues to grow more popular every year and this is testament to how fit many of the population want to become, the question we can ask ourselves is somebody somewhere thinking of creating a sporting event which will be even more challenging?
FAQ
Q: I am super fit is there any sporting event I can try other than Triathlon to challenge me?
A: Yes there is, in Europe you can try long distance running orienteering, through forests, through wild rivers, remote hills it's very challenging though its popularity is not high. It also involves a whole different range of sports kit.
Q: Why bother wearing swimming caps in the Triathlon swim?
A: Swimming caps are about more than keeping your hair dry, they give water dynamic flow over the head, allowing you to use less energy so you save energy for the rest of the competition.
Q: Should we take a first aid kit with us during a triathlon competition?
A: Many do but its more streamlined than what you find in first aid boxes, you can take an antiseptic gel, barrier cream, sunburn cream, perhaps a few small band aid.
Q: Competitors whom spend a lot of money on a bike get an unfair advantage in the triathlon race, do you agree?
A: The modern tech built into racing bikes does give advantages for speed, it would be interesting if all competitors were asked to use exactly the same bike.
A: You need to choose a pair which are durable and comfortable enough for swimming, cycling and running, it's best to read runnerclick reviews and keep track of your best choices.
Q: Is it possible to get badly injured during a triathlon competition?
A: Yes it is, the competition tests your stamina and durability in very trying conditions, to enter you must make sure that you are physically up to the challenge.
---
Here are a few good sources:
Subscribe to our newsletters