The Best Triathlon Gear Reviewed & Tested
1
Many runners see a triathlon as the ultimate challenges of their abilities. When preparing for a triathlon it is important to consider that running is only a third of the total challenge. Training through both cycling and swimming will not only allow you to properly prepare for the triathlon itself but also as an endurance builder, which will help strengthen your running abilities on the whole.
Here we have a variety of gear, for your consideration, that we at Runnerclick believe are essential for a proper triathlon kit. Further in the article we also have triathlon participation guidelines to help you properly prepare.
Garmin Forerunner 910XT

Our rating
20 hour battery life and easy to read display
Price:

See Here

Rockay Blaze

Our rating
Graduated Compression
Price:

See Here

ROCKAY Accelerate

Our rating
Cushioned design for support and comfort
Price:

See Here

10 Best Pieces of Triathlon Gear
1. Garmin Forerunner 910XT GPS-Enabled Sport Watch
This is by no means a requirement, but having a watch with some basic functionality can go a long ways toward better performance in a tri. With the Garmin Forerunner on your wrist you can assess in real times a number of different metrics that will help your overall race strategy. Such as: time (obviously), heart rate or elevation with a fancy barometric altimeter. Bottom line this is a great watch for tri usage and it's fun to play with!
Expand to see more
Take this useful gadget with you it will be very useful.

When you enter into a high endurance competition it makes sense to monitor your heart rate for any warning signs and you can do it with this very handy watch

Naturally most competitions are dead lined to a finish time or you yourself want to set such a deadline, carrying this watch will make sure you are keeping to your target time.


Cost.
Not expensive when you consider you get a durable multi functional watch which will last for many years.
GPS-enabled
Can be taken in the water
20 hour battery life, good for longer races
Great for tracking distance, pace, & heart rate
The price is high, as expected for a product like this
Rockay Blaze
Before your next Triathlon, there is one piece of gear you need: the Rockay Blaze Graduated Compression Leg Sleeves. These have been intentionally designed to help reduce any potential fatigue, improve recovery times, and prevent a wide variety of common running ailments. Given the technology utilized in constructing them, they are a great choice Triathlon athletes. Here are a few more features to consider.
Expand to see more
Graduated Compression

Today, there are so many brands that offer "compression" products; however, they lack some of the basic fundamentals. In efforts to showcase their strength in this industry, this brand had their product tested by the Swisslastic's Compression Test. For those who don't know, this is a state-of-the-art test proving the value and effectiveness of this specific piece of gear.

Hang to Dry

One of our favorite aspects of this product is that, after a triathlon or a long run, you can simply hand the product to dry. So, by the time your next even or run, you can reuse it. Thanks to Polyigene Stays Fresh Technology, there will be no odors and bacteria, making it safe and easy to use or wear.

Cost and Value

This valuable piece of gear is considered a bit costlier than the competition. However, this product is immensely more beneficial. This is the first product that we have studied and analyzed that comes with state-of-the-art technology and testing to prove it. You can't go wrong with this gear!
Incredibly durable and long-lasting
Moisture-wicking properties
Anti-odor technology
Lifetime guarantee
Can be considered costly
Colors are primarily masculine
2. Aduro Sport Bike Storage Bag
Don't leave anything behind on race day - except your competitors! The functional Aduro Sport saddle bag is compact and connects easily under the top tube of your bike so that you can make travel with everything you need. The Aduro Sport fits most essentials like smartphones, wallet, keys, small bike pump, cable lock, repair tools, etc.

Expand to see more
The Aduro Sport bag features adjustable velcro straps for a custom fit. Users love its big durable zippered open-mouth design as it allows for easy access.

This saddle bag boasts a slim body design with a high-capacity to minimize the wind resistance. It is water and weather-resistant and made from strong and durable polyester material that helps protect stored items.

Cost: This product is covered by a Lifetime 100% Satisfaction Guarantee - If you have any issues at all, simply let Aduro know and they will replace it at no cost or issue you a full refund!
Lifetime 100% Satisfaction Guarantee
Affordable
Weather-resistant
Durable zippers
Some users had trouble with fit
3. ROCKAY Accelerate
Many people seem to overlook socks when buying the necessary gear they need for the running or even racing. They are such a small thing but can actually make a huge difference to your running experience. Choose a sock that isn't breathable and your feet will be sweaty. Choose a sock with a poor fit and they will be moving around inside your shoe. Luckily, you won't have to worry about any of these issues with the new Accelerate sock by ROCKAY.
Expand to see more
ROCKAY made sure to take note of what people wanted in the optimal sock and create just that.

The Accelerate is also highly durable. It has increased durability on areas that see the most stress such as the toe and heel. This prevents holes from wearing through before the socks have been used to their full value.

These socks are made using a highly breathable Merino wool. Wool may not sound breathable to some but trusts us, it is. The alternative weave construction and moisture wicking properties will keep your feet temperature regulated and comfortable.

Cost: If we look at the look of these socks, it's easy to see they also come in a highly stylish design. For those who appreciate a minimalist, sleek, and athletic aesthetic, these ROCKAY socks will not disappoint.
High breathability
Great support
No-slip design keps the socks from sliding doen in your shoes
Merino wool naturally aids in moisture control
Limited colors and styles
4. SLS3 Triathlon Shorts
Let's start with the basics, what to wear.
Probably the first thing you'll want on your shopping list is a
nice pair of "tri-shorts".
Expand to see more
Shorts designed to perform well at each stage of the competition, and the SLS3's are a great place to start.
These are a nicely padded full-coverage pair of shorts that
protect your muscles
and offer
padding for the bike
but don't constrict you while swimming. Comfortable and durable, it's hard to go wrong here.
The durability level for these shorts is highly impressive, they are light and comfortable, they give plenty of room for flexibility.
They are only offered in a solid black color and I feel this states that they are reliable, solid great performing shorts.
A must have for you kit.
Cost.
These wont break the bank, a really worthwhile buy and they will last for a very long time.
Made from a nylon/spandex mix these are lightweight shorts
Smooth seams, zero irritation
Fabric is quick drying, imperative for triathlons
Reasonably priced
Well calibrated elastic in the waist
This particular style is only available in black
7. Giro Aerohead MIPS Racing Helmet
This is one of Giro's leading helmets on the market because of the MIPS technology that offers leading protection from injuries. The helmet also allows for optimum performance because of the great ventilation features that keep you cool even in the most competitive runs. It is one of the most popular helmets with triathletes and time trialists.
Expand to see more
This helmet has a polycarbonate shell, an impeccable wrap-around eyeshield and offers a strong magnetic anchor attachment for and lens flip up for an easy transition flow from swim to bike.

Sizing is not a problem because Giro's Super Fit Engineering makes sure everyone gets a suitable fit.

The visor provides long-distance cyclists unobstructed, long-range visuals, simultaneously taking care of your safety.

Cost:
The price is above average, but if you are a serious buyer looking for the very best in performance enhancing tools, you won't regret purchasing this helmet.
5. Hoka One One Clifton 4
The Hoka One One Clifton 4 is an excellent choice for long term term wear and an especially good choice for enduring and overcoming the trials of a triathlon.
Expand to see more
The most notable attribute of the Clifton 4 is its ability to help deal with foot and leg pain. Whether your pain is a result of existing issues like pronation or the general weariness of swimming, riding, and running, the Clifton 4 can prevent and provide relief to pain. They are firm and supportive to help deal with any stride or gate issues.

The shoes may look bulky but most wearers assure the skeptical that the Clifton 4's are lightweight and feel as though you are wearing nothing at all.

Cost:
When in consideration of the price of running shoes, you can pick up the Hoka One One Clifton 4's for a pretty reasonable price.
6. TYR Sport Special Ops 2.0 Polarized Swimming Goggle
Often times race organizers will provide participants with a swim cap, so you likely won't need to worry there.
You will however want to make sure you've got a
good pair of goggles
. Read on here to see why you should choose the TYR Sports Goggles.
Expand to see more
Complete your full triathlon kit.
The TYR Sport Special Ops are a professional grade pair of goggles designed that give you wide peripheral vision, a snug fit and polarized protection.
They also have fog-resistant lenses so your odds of going blind mid-race are slim-to-none.
The lenses have good scratch resistant qualities which means that you can enjoy them without scratch marks across the lens.
Cost.
A nice price, well worth the investment for the boost it gives to your racing performance.
Well manufactured, good quality
Medium range pricing, good ratio
Include a Durafit gasket
Anti-fog lenses
Wide peripheral view
8. Wahoo ELEMNT GPS Bike Computer
The Wahoo ELEMNT bike computer is an investment that you may make for the sake of your triathlon performance but will be a piece of gear you will get a lot of use out of before and after the event.
Expand to see more
The ELEMNT provides maps with elevation and distance tracking, although it should be noted that the accuracy is not always spot on. This type of help can be essential on confusing courses or for planning routes. While GPS watches can provide similar aid, the ELEMNT is mounted securely on your bikes front, which makes for easy consultation.

Cost:
The ELEMNT bike computer is not a small investment but it is an investment that will pay off in the long run.
Good battery life
Track calls and messages
Compatiable with a lot of other equipment
Useable with a companion app
Turn by turn navigation
Easy set up and use
Crisp clean screen
Out in front mount is useful
Wide range of customization
Elevation/ grade tracking accuracy has come into question
Display is very bright, which may be an issue at night
10. VENTILA SL Cycling Jersey
A vital part of your
Triathlon kit
and still keeping within a reasonable budget, this affordable, durable and comfortable cycling Jersey.
A nice light weight jersey ideal for quickly putting on and offering all the features you need for comfort and protection, especially if your racing in the fall season. Easy to pack and carry ( its very light) and offered in
a nice range of color combinations.
Lightweight.
Easy to pack and carry.
Good moisture wicking.
Durable.
Some Triathletes prefer a Jersey with more tech built into it.
9. Tifosi Podium Shield Sunglasses
Taking care of your eyes out of the water is equally as important as in the water when it comes to tri-racing.

The Podium Shield glasses for Tifosi are our pick due to their mechanical (yet comfortable) fit and wide range peripheral vision.
Expand to see more
Rubberized elements are strategically placed along the frame of these glasses making them stick to your face but they do not rub in an uncomfortable way.

The glasses look stylish and they are, they are also durable and strong, if you drop them they should not break or crack.

Throw in 100% UV protective coating plus a medium range price point and you've got yourself a steal.

Cost.
A nice investment, stylish and functional, these glasses are a great accessory to have for your next triathlon event.
Rimless, full UV protection
Featherweight
Fit snugly, but don't rub or cause friction
Interchangeable lenses
The thing is though, a triathlon requires quite a bit more gear and preparation than running does, this combination is your kit. You've gotta factor swimming in, plus a good bike and associated accouterments. There is no way for us to cover everything in a single post, so we won't try. Tri-related cycling gear it a topic(s) in and of itself. Rather what you'll find here is a few highlighted products (mostly accessories and clothing) we've found to be particularly useful when it comes to each aspect for the triathlon.

Here is a quick checklist for your full Triathlon kit.
1. Bike
2. Tri Clothing
3. Wet-suit
4. Swim Cap
5. Goggles
6. Lubricant
7. Running Shoes
8. Nutrition/Hydration
9. Helmet
10. Sunglasses
11. Sunscreen
12. Flat Repair Kit
13. Running Hat
14. Race Number Belt
Our Criteria for assessing the best choices of kit for triathletes
Our criteria had to have a focus while keeping in mind the wide choices of kit used by triathletes. Our focus was that you are entering a very challenging race and that you are probably entering with the aim to be "the winner" or at the least, in the top group of finishers.
Our first focus was to consider "value for money" being a triathlete requires investing in a broad range of products because you are covering swimming, cycling and running, this is not only three times the expenditure but it involves buying sports products which are often designed with the Triathlon in mind.
When we say value, we considered that for high performing kit you want reliability and high performance.
This means the brand names have invested research time and looked at creating a more specific product and this can often cost more.
Therefore, can the brand provide quality, durability, good performance, and feature innovative technology while staying within a lower affordable budget range.
The race factor was very important when we reviewed the different types of kit for a triathlon, during a race there is no time for delay caused by a kit which either fails to perform or does not hold true to the function that it should be providing, as this will result in delay and impact on your performance. If you are entering the race with the intention to try and win, we made sure we looked at kit which will be reliable.
Importantly we stayed true to assessing the quality, the performance and reliability, durability and user-friendly, comfort, weight, functionality and can the product genuinely meet the demands placed upon it by triathlon?
If your thinking of competing in Triathlon your first consideration is which type of Race
DISTANCE RANGES FOR TRIATHLON RACES IN MILES, CHOOSE THE RACE FOR YOU.
The Events. Swimming. Cycling. Running.
| | | | | | |
| --- | --- | --- | --- | --- | --- |
| The Mini Tri ( or Sprint) | | 0.24 | | 5-15.5 | 1-3.2 |
| The Olympic | | 0.93 | | 24.8 | 6.2 |
| The Half – Ironman | | 1.2 | | 56 | 13.1 |
| The Ironman | | 2.4 | | 112 | 26.2 |
How Did Triathlon Start?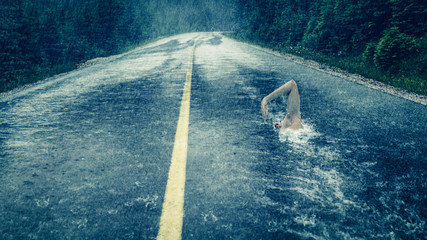 The ancient Greeks held sporting competitions which involved different sports activities combined together. However, these were not in the order of swimming, cycling and running, bikes were none existent back in those days.
Looking at the USA we can see a definite move towards combining three sports together in order to name it as one competitive sport.
In the early 1970s, the Track Club in San Diego wanted to create an event that would be more challenging than running hard track.
In 1974 on the 25th of September the club decided to sponsor a competitive event which covered a 40-km cycle race, a 1500-meter swimming race followed by a ten-kilometer run.
It was clearly a very popular success which was repeated regularly and in 1989 the event was awarded Olympic status as an event and the first triathlon took place at the Sydney games, Australia.
Around 1989 the ITU – International Union for triathlon was set up in France at the city of Avignon, they introduced a 1,500 water event, a grueling 40-kilometer bike ride followed by a fast 10-kilometer run, these requirements were set to mirror Olympic level sports.
The feature of triathlon is that there is not a break between the three sports as part of the challenge is the rapid transition from one challenging sport straight into the next sport. This requires a high stamina level for athletes and very strong endurance ability.
Nowadays there are four variations for the competition ( as shown in the above chart) so people joining this sport can start at an easier level and work up towards the Ironman level.
For the Olympics they competitors start with a shorter swim just a distance of one and a half kilometers, followed by a tough forty kilometer bike ride and capped off with a tiring ten-kilometer run, this combination would test the endurance and stamina of the fittest of people.
Triathlon continues to grow more popular every year and this is a testament to how fit many of the population want to become, the question we can ask ourselves is somebody somewhere thinking of creating a sporting event which will be even more challenging?
FAQ
Q: I am super fit is there any sporting event I can try other than Triathlon to challenge me?
A: There are a large variety of events both near and abroad, obstacle courses, tough mudders, and long distance running orienteering, although the latter is more common in Europe. All of these are very different events compared to a triathlon and research and proper kit planning is recommended.
Q: Why bother wearing swimming caps in the Triathlon swim?
A: Swimming caps are about more than keeping your hair dry, they give water dynamic flow over the head, allowing you to use less energy so you save energy for the rest of the competition.
Q: Should we take a first aid kit with us during a triathlon competition?
A: Many do but it's more streamlined than what you find in first aid boxes, you can take an antiseptic gel, barrier cream, sunburn cream, perhaps a few small band-aids.
Q: Competitors who spend a lot of money on a bike get an unfair advantage in the triathlon race. Do you agree?
A: While an expensive bike can be said to have a technological edge over a more affordable bike, the biking section is only one-third of the race. Determination and the skills you have developed can still make the difference between a win or lose.
A: You need to choose a pair which is durable and comfortable enough for swimming, cycling and running, it's best to read Runnerclick reviews and keep track of your best choices.
Q: Is it possible to get badly injured during a triathlon competition?
A: Yes it is, the competition tests your stamina and durability in very trying conditions, to enter you must make sure that you are physically up to the challenge.
---
Here are a few good sources:
Subscribe to our newsletters