10 Best Ultra Running Shoes Rated & Tested
0
Ultramarathons include any race that's more than the 26.2 miles. For these long distance races, runners need high performance, lightweight, and durable ultra running shoes to perform at their best. Often, a basic pair of running shoes won't hold up, so ultra running shoes are needed.
The key to choosing the best shoes for ultra and challenging distance running is to select a brand which has researched and designed the shoe for the purpose. With this thought in mind, runners will get a shoe which they know will meet the required conditions for performance, comfort, lightness, and durability. For example, if you want a very fast car you buy a sports car because it is purpose designed, this is the same logic to apply when selecting a pair of running shoes for ultra distance performance.
There are many different running shoes available for ultra marathon runners. To decide which pair of ultra running shoes would best fit your needs, we have put together this list of the best ultra running shoes you can buy.
10 Best Ultra Running Shoes
Brooks Pureflow 6
Built specifically for distance running, comfortably light, and the whole shoe design is about enhancing the ability for speed.

A responsive level which gives support to speed in combination with impressive and comfortable designed in supportive strategic cushioning support.

These shoes are in our top selection because of the performance and the buyer-friendly price tag.

Expand to see more
Responsiveness/Performance

The response is above moderate and consistent, this factor may well not be as high as some other brands but it's all about the response level in this shoe working very well in conjunction with other additional built-in shoe techs. The Midsole is DNA Lite so you will feel the bounce factor which works together with the shoes ability to give the right level of structural support for a long challenging ride.


Comfort

Your comfort results from the mid-sole area which also serves up support combined with flexibility. Though the shoe feels firm when you need it the bounce factor is also there and reliably consistent.

The needed padding is nicely placed in strategic areas and an innovative ventilation system keeps dryness and comfort consistent.

Durability

Durability is not sacrificed while you get a light shoe, the outsole is tough blown carbon which gives good protection while holding back wear and tear. The upper mesh system is constructed from durable materials which mean the shoes gives longevity combined with noticeable structural support.


Value

When you think about the high performance, durability, comfort and nicely designed in shoe tech the price is surprisingly friendly for buyers.

Buying a pair of quality ultra running shoes ensures that runners have the best chance at successfully finishing an endurance race. For runners that love to participate in long races, investing in several pairs of ultra running shoes makes sense for training and actual race day. Just make sure that you don't wear a new pair you haven't worn into a race.
Our Criteria For Evaluating 10 Best Ultra Running Shoes
Protection
Reviewing covered how firm the shoes are at the front when they are performing on challenging surfaces which are totally different to road surfaces. We wanted to see toe protection built into the shoes in combination with plates designed underfoot to give solid protection from sharp rocks and tree roots.
We looked for midsoles which offer strong resilience through superb cushioning and capability to take the shock levels created through hard strikes or landing on rocks while still giving stability on challenging descents. The provision of sturdy protective materials built as overlays into the shoe for defense against sharp thorns.
Support
We looked at support through stiff solid shoe build design in the uppers, the use of internal shanks all of which give a runner the edge on surfaces which can be very unstable. Very tough challenging environments require the shoe to go a step further in features, were foam midsoles offered in tough polyurethane for greater durability? Did the shoe designers look at providing more stoutness in the shoe which will result in better torsional rigidity especially as a runner is very likely to be on ground which is difficult to predict and barely ever even or flat?
Weather protection
Ability to handle rough terrain
Hiking Trails
The SpaceRock, Vasquez Natural Park in California
At number one in our choice of five very different and challenging trail runs, there is a choice here for all runners, new runners or those that prefer a shorter distance can try the 5km trail and enjoy the fantastic scenery and character building challenging which naturally occur in this trail. For more experienced or those that want more challenges while also enjoying breathtaking scenery two more choices are on offer, the 10 km run or the famous 13.1-mile run.
Vasquez Natural Park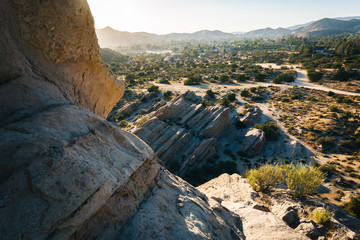 What scenery can you expect? Think of Planet of the Apes, Star Trek and many other movies which used this park because of its unique features.
You will be running in elevations which vary over 3200 feet and the amazing rock formations may well give you the feeling you are running in a terrain on a faraway world in another galaxy. Don't forget to bring a GPS.
The Kalalau Trail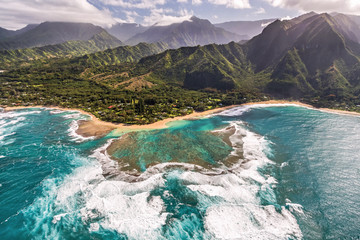 Here you will experience every type of surface you would expect in a remote Hawaiian forest and valley location and you will also encounter parts of trails that you had never imagined.
The scenery is spectacular, the wildlife exotic and spellbinding, this trail run is a once in a lifetime experience which will stay in your memory forever. Take with you a good selection of running gear and essential survival kit and of course a camera because you will want to take many snapshots.
Your route will be 11 miles and a combination of running and a lot of trekking due to challenging terrain, you start at Kee beach front and head along the coast to Kalalau beach but to get here you travel through the national park valley inland, you do not directly follow the coastline. In reality, you pass through five valleys within the park system, through lush green awe-inspiring valleys, along cliffs which tower as they face the blue ocean till you eventually descend to sea level.
I suggest you bring a reliable GPS.
Huckleberry Mountain, Montana USA

Try six miles in breathtaking spectacular scenery, you get lowland, medium elevations and higher and the actual trail is not too challenging as you make your way through a Glacier regional national park in Montana.
Take a good solid running kit with you including a GPS and watch out for the wild Bears, not your standard brown bear but the Grizzly types. This type of trail is for runners that want the wilderness and all its natural beauty. The condition of the trail will very much depend on which time of year you visit.
Drakensberg Traverse, South Africa

This trail is tough and its for runners and hikers that want a challenge which they will never forget, we are talking 220 km of amazing landscapes in a South African environment, incredibly steep at times and flat at others, you will do a lot of ascending and descending, at times in conditions you might not have thought possible.
If your up for challenges that will ultimately test your endurance this has to be the one that will work for you, it's a long way to travel to get to South Africa and then you have the journey to reach the trail run where you can combine running and hiking. This unique challenge is clearly not done in a day so you must go equipped to be there for 3 or possibly 4 days even if it does not take you that long.
Yes, it is actually a trail that has been used in competitions and it is not unknown for people to quit. The actual trail is not clearly established so you will want a good GPS system. Without any doubt, this is one you will find tests you and stays as one of the most challenging experiences in your life. A country in which the animal population is really wild and at times may well regard you as food.
Aonach Eagach Ridge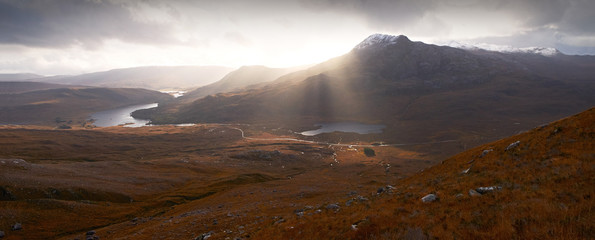 The trail distances vary in fact you can create your own trail runs, the views in the Scottish Highlands are really memorable, it's wild and untouched and though very beautiful you will need to take care, the terrain can change very quickly from firm to boggy, you will run ridges where if you slip off you will be severely injured and with no other people around to help you.
Beautiful loch's, (lakes), valleys full of heather, hills, mountains, bogland, forests, everything is here, be ready to tackle steep elevations, descend into stunning valleys littered with herds of red deer, wild grouse, and fantastic fauna.
At times the weather can change dramatically so your running kit needs to be of the type to be ready if that happens, take a good GPS and phone along with energy rations and water.
FAQ
Q; For endurance running, which energy bars do you suggest?
Q: I want a GPS but I'm not into the handheld models which need to be carried or stowed in a pocket, can you suggest an alternative?
Q: I want a solid pair of running pants, not shorts because I'm going trail running in a very cold mountainous area.
Q: I'm into trail running in really sticky wet muddy conditions, which type of lug style and configuration should I look for?
Q: I'm thinking of going on a full daylong trail running event in Montana, can you suggest a good runners backpack?
Q: I'm into trail running big time and one of my preferences is a lot of protection and sole between me and the surface, any suggestions?
Subscribe to our newsletters