10 Best Obstacle Course Racing Shoes Reviewed

0
Having the right shoes is crucial when running. Obstacle course racing shoes can greatly improve your running performance. They can also increase your support and stability.
Different challenges for a shoe used on obstacle courses.
The usual rules for high-performance shoes in running terms get thrown out of the window. The performance is not about local runs in parks, a road run, moderate or challenging trail runs or even competitive running events. For obstacle courses, we need shoes which can cope with the complex challenge of climbing a rope, scaling an often slippery wall, being subjected to extreme water conditions, mud, slippery surfaces, wet logs, deep inclines,  just to name a few.
We want the ability for speed, serious traction grip, high levels of protection, the right amount of cushion, top durability, appropriate flexibility and serious support. Under obstacle course conditions the durability of a shoe is tested to the max, if the durability fails then you also fail.
What makes these shoes different than regular running shoes? Namely the amount of traction and the measures that are in place for durability. With so many shoes to pick from, it can be difficult to choose the OCR shoe that's right for you, so we've put together a list of the top 10 shoes on the market to help you make your decision.
We've evaluated factors such as traction, support, protection, and responsiveness in order to bring you an overview of the best options out there – removing the daunting task of trying to find the right shoe and making it easier to find the best option for you.
Salomon Speedcross 4

Our rating
Contagrip technology
Price:

See Here


Altra Superior 2

Our rating
Stoneguard rock plate
Price:

See Here


Inov-8 X-Talon 200

Our rating
Rope-Tec rubber
Price:

See Here


11 Best Obstacle Course Racing Shoes
1. Salomon Speedcross 4
The fourth edition of the
Salomon Speedcross
does a great job of keeping you comfortable, supported, and safe while running on technical trails.
Expand to see more
Comfort
This shoe fits very comfortably and close to your foot. It provides just enough protection for trail running. A molded EVA midsole makes this shoe extra comfortable and supported. This shoe has a 10mm drop and weighs 310g.

Traction
The Salomon Speedcross 4 provides great traction thanks to its rubber sole and aggressive grip, Wet Traction Contagrip.

Cost
These shoes are priced averagely compared to others on the market.
Awesome grip

Highly cushioned

Protection for trail running

EVA midsole

Contagrip technology

QuickLace system

Mud guard

Sensifit

Anti-debris mesh
Some customers have complained that this shoe feels too narrow.
2. Altra Superior 2
Altra Superior 1 was last year's award-winning favorite, and now
Altra
is back with a new and improved version with three color options.
Expand to see more
Comfort
With a thick rubber sole and quick-dry air mesh, this shoes is one of the more comfortable obstacle course shoes on the market. The courtour footbed is 5 millimeters thick. A removable stonegaurd rock protection plate is very helpful in protecting your feet from sharp objects.


Traction
With a TrailClaw sticky rubber outsole, traction is an issue that you'll never have to worry about. Additionally, Trailclaw technology involves lugs on the bottom of the shoe which provide superior grip on all kinds of terrain.

Cost
This shoe is priced on the low-to-mid range on the price scale.
Available in 3 colors

Quick-dry air mesh

Comfortable sole

Stoneguard rock protection plate

TrailClaw sticky rubber outsole & lugs
Some people don't like the fact that this shoe has no drop.
3. Inov-8 X-Talon 200
Designed specifically for off-trail running, this shoe compliments the foot's natural movement and only weighs 200 grams.
Expand to see more
Comfort
A rubber toe bumper on the forefront of the shoe works to protect your toes from rocks, debris, and other obstacles. The lacing system on this shoe was designed to be a bit narrower than its predecessor, ensuring for a secure and snug foot all the way across the midsole. The shoe also has a water repellent coating, ensuring that your feet stay dry throughout your entire run.

Traction
The 8mm sticky rubber studs on the bottom of the outsole provide awesome grip on both soft and hard ground. Additionally, hardened Rope-Tec rubber on the outsole protects against burning for when ropes are a part of your workout.

Cost
This shoe is priced moderately compared to others on the market.
Avaliable in three colors

Lightweight

Rubber studs for traction

Water repellent coating

Rubber toe bumper

Snug midfoot fit

Rope-Tec rubber to protect feet from burning
Many people have found that this shoe runs small.
4. Inov-8 X-Talon 212
Inov-8 prides themselves on the durability and comfort of their athletic gear. Since launching in 2003, it's become one of the fastest growing running brands in the country.
Expand to see more
Comfort
Weighing only 212 grams, this shoe is relatively
lightweight
and flexible. It does a great job of complimenting the foot's natural movement and also working to increase speed. A water repellent coating ensures that your feet remain dry, even when running through streams and puddles.
Traction
The 8mm sticky rubber studs do a great job of providing traction on all kinds of terrain, from soft dirt trails to rough and rugged rocks.
Cost
These shoes are priced moderately compared to others.
Lightweight and flexible

8mm sticky rubber soles

Water repellent coating

Compliments foot's natural movements
Some people have found that this shoe fits a bit too narrow.
5. Reebok All Terrain Super OR
Reebok has engineered this shoe with more cushioning and more stability for longer distance runs. This shoe has been designed in partnership with the participants of the Reebok Spartan Races, which are "innovating obstacle course races on a global scale."
Expand to see more
Comfort
Mesh drainage ports which were strategically placed in order to make water dry easily and quickly. The Duragrip upper also helps protect the shoe from damage, as it provides durability in high-wear areas. An underfoot rock guard protects your feet against sharp objects such as rocks and other debris.

Traction
Midfoot teeth do a great job of providing traction and protection during your obstacle course routine. Additionally, square lugs on the bottom of the outsole provide 360 degree traction.

Cost
This shoe is priced similarly to other quality trail shoes on the market.
Mesh drainage ports

2 colors available

Duragrip upper

Square lugs for traction

Underfoot rock guard

Midfoot teeth
Some people have stated that this shoe rubs the backs of their ankles.
6. Merrell All Out Crush
If you do a lot of running in low-light conditions, the Merrel All Out Crush is a great option for you. With reflective details for visibility, you'll never have to worry about safety issues at nighttime.


Expand to see more
Comfort
M Select Fresh, a long-lasting technology that prevents sweat and moisture from damaging your shoes, contains antimicrobial agents. These help prevent odor and the growth of bacteria. Additionally, the shoe's Uni-Fly impact absorption system provides you with a soft landing. It then disperses the impact and encourages a strong and stable takeoff.

Traction
This shoe consistently delivers slip-resistant stability and heavy-duty traction over mixed terrain.

Cost
The Merrell All Out Crush is a bit more affordable than others options.
Protective toe cap
Drainage ports
Uni-Fly impact absorption system
Great traction
Reflective details for visibility
Antimicrobial lining
Some people find that there is not enough padding in the midsole.
7. ASICS GEL Fuji Runnegade 2
ASICS got their name from the old phrase "A Sound Mind in a Sound Body." The acronym of this quotation became the company's name. This shoe does great in all types of conditions. Whether you're going through deep mud or conquering intense terrain, you'll be happy with the GEL Fugi Runnegade 2.

Expand to see more
Comfort
Featuring PlasmaGuard, this shoe stays protected from rain and mud without the loss of flexibility and breathability. The rubber sole and rear foot gel cushioning system allow for a comfortable fit and a smooth transition from the impact phase to midstance. Additionally, a gusseted tongue construction prevents gravel and other debris from entering the shoe.

Traction
This shoe has a very rugged outsole, which is great for terrain such as dirt roads. Specially designed lugs provide traction in even the most extreme conditions.

Cost
This shoe is priced on the low-to-mid range on the price scale.
Gusseted tongue to prevent gravel

Affordable

Rugged outsole

Specially designed lugs for traction

PlasmaGaurd technology

Rear foot gel cushioning system

Flexible and breathable
Some people find that the tread wears out easily.
8. La Sportiva Mutant Backcountry
This award-winning shoe is extra cushioned to prevent your feet from getting sore.
Expand to see more
Comfort
An air mesh lining ensures that your feet stay cool and dry throughout your whole workout as well as works to prevent
blisters
. A 'Spryratongue' design wraps around the shoe for added stability and comfort. The adjustable Fusiongate lacing harness provides much more security than traditional lace-up shoes.
Traction
Lugs made of La Sportiva's FriXion XF rubber give you a sturdy grip with the ground, even on wet rock or slick trails.
Cost
This shoe is one of the most expensive options on this list.
6 colors available

Spryratongue design

Lightweight

Well-cushioned
Fusiongate lacing harness

Air mesh lining

FriXion XF rubber lugs
Some people find that this shoe fits small.
9. Icebug Pytho3
If you're looking to invest a little extra for a super high quality, durable shoe, check out the Icebug Pytho 3.
Expand to see more
Comfort
This shoe's rubber sole does a great job of providing the foot with support and responsiveness. Also, the tongue and collar of the shoe are both padded for additional comfort. The shoe's upper is made of nylon, which is water-repellent.

Traction
With a BUGrip sole for superior traction, this low-profile shoe remains flexible while allowing for a good terrain feel.

Cost
This is the most expensive option on this list.
Flexible

Water-repellent upper

Supportive and responsive

Padded tongue and collar
Some find that this shoe's outsole is a bit too slick.
10. Icebug Acceleritas5 RB9X
This shoe is one of the lightest trail shoes on the market. Runners have described wearing this shoe as feeling barefoot!
Expand to see more
Comfort
Quick-dry mesh helps assure that your feet stay comfortable. With an upper made of polyester mesh, this shoe is super lightweight and doesn't irritate the skin. The midsole is made of compression molded EVA foam, making for a supportive footbed.

Traction
Rubber 9 Extreme technology is used on this shoe's outsole. The outsole is designed with a special pattern that optimizes traction on hard as well as soft surfaces. Around the outsole is RB9X, providing the shoe with even more grip. This innovative compound provides incredible traction on all terrains.

Cost
These shoes are a bit on the expensive end of the scale.
Polyester mesh upper

Compression molded EVA foam

RB9X Rubber

Lightweight

Great traction
Soft and airy upper
Some people find that this shoe is not heavy-duty enough.
11. Reebok   All Terrain Super 3.0
This new version of the shoe is a revamped update on the previous shoe model, you get this shoe available for both men and women. Let's get straight to the point on the previous shoe version, durability caused concern among runners, ripping issues have been flagged up in the past. Reinforcement is evident in the uppers in the areas where ripping was a cause of interest.
Reebok heard the feedback and they have reacted, this fourth shoe model has had major updates to the upper to put right previous problems with ripping. It's true to say that Inov-* and Icebug shoes are still hot favorites but Reebok is determined to get back to the top group. 
This shoe
like its previous version is tops when it comes to draining water, on obstacle courses we will get wet feet, this shoe is very effective at dispelling water.
Why did the previous shoe model have ripping issues? Runners suggest it was due to the narrow FIT and this issue has also been addressed through updating.
The previous shoe had a popularity among runners for many positive reasons, issues have been addressed and updated to counter previous ripping issues. Read our review and see if you want to try out this updated version.
Expand to see more
Comfort

Reebok was first to build factory-drainage-ports into running shoes and this innovative approach was very well received by runners. This standard of comfort is continued. There were comments about debris in the drainage runoff when water is dispelled, debris will flow with it, better out than remaining in the shoe.

Another update for comfort and secure hold is the updated lace system, the laces no longer thread through the shoe, instead, they pass through a stand-alone rubber system which is fitted separate from the shoe tongue. For runners who like a low cut shoe, this will be fine, for others, they will need to try the shoe to see how good stability for the ankle is for them.

Durability

Durability is enhanced through the update to reinforce the toe-box to address previous tear concerns, Reebok responded to concern for ripping in this area and updated the shoe.

The "Dura-Grip" rubber is reinforcing the toe box where the previous models were widely known for tearing. It looks like Reebok heard the call for correction(or got tired of replacing shoes for this issue)

Traction

Traction is superb through Rope-Pro which is a tread system which flows from the lace area all the way down to around and around the mid-sole. A high performing tread with good sticky factor is also built into the interior-outsole for grip maximization even for complicated rope climbs on obstacle courses, in fact, the grip system works well on walls and other obstacle course challenges.

Cost

Priced at a similar amount to other high performing shoes for obstacle courses, the updates make this a worthwhile investment.
High performing dispelling of water through drainage ports.
A new Upper system built into the shoe
High performing tread system-Rope Pro
An updated reinforced toe-cap
Rock Guard system designed into the mid-sole
A new updated stand-alone lace-up system, will runners appreciate and will the new reinforced upper be enough?
The Factors We Used in Our Evaluation of the Best Obstacle Course Running Shoes
When you choose a good performing obstacle course running shoe you need to carefully review and ascertain that the shoe offers features which will perform to meet your own personal and specific needs.
Here we start with good solid advice and continue with an in-depth listed explanation of our criteria for reviewing obstacle course running shoes.
You don't get more different than an obstacle course race, the challenges you face are of course running and for this we need a high performing shoe but you also have to master swinging, climbing ropes, possibly scaling a wall, climbing up a net face and dropping safely down about 8 feet or more  feet on the other side, wading out of a deep water pit having fallen into it when trying to get over it, crawling through a makeshift tunnel, wading, running through mud and many more exceptional challenges depending on which obstacle course you choose.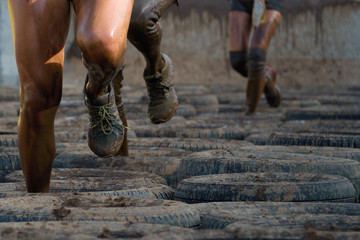 You won't get far without the right type of running shoes.
Check out our reviews regularly because we are always updating reviews for you, look for a pair of shoes which can give top trail running capability, offer lightness combined with serious durability and protection. You're going to look closely at a pair of shoes with top performance tread of the type which will reliably grip in the most treacherous mud and loose wet surface conditions.
Upper shoe construction. The strategy for reviewing and identifying the best shoe will require looking for an upper shoe construction which though thin it offers durability, protection, stability and does not retain water, in fact, you want an upper construction that lets water out efficiently.
Minimalist vrs Non-Minimalist. Your first consideration will be to decide if you need a non-minimalist or minimalist running shoe and keep in mind that the majority popular high-quality brand shoes tend to produce minimalist styled shoes. Consider brands such as Reebok, Icebug shoes, New Balance and Inov-8, these are a very good starting point when you look for a shoe which will specifically work for you. There are more brand shoe options and our review looked far and wide to ensure you have a good selection of choices.
Non-minimalist. If you're set on non-minimalist shoes check whats being offered by Salomon, factor in a need for design with the right weight, lighter can mean quicker, once your shoe has been subjected to mud and soaking, light-weight designed into a shoe will speak positive volumes.
Gore-Tex is great
but does the shoe still offer enough drainage for an obstacle event? We all know the performance value of a good quality gore-tex shoe, as a defence against water it tops the must-have league but keep in mind that gore-tex does not give high breathability, if your shoe fills with water that will mean that you keep much of that water in the shoe, the weight and discomfort implications are obvious. We don't want to be running an obstacle course with shoes that retain water and increase in weight.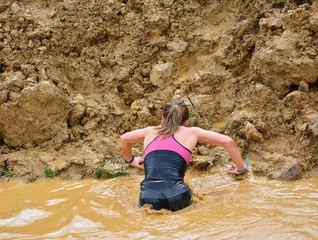 Drainage.
You absolutely want
a shoe which gives serious drainage performance
, the challenge for shoe brands is to create a shoe which can take a serious soaking, give top performing drainage capability while retaining durability and not ripping at the seams due to weight and wear. Reebok is a good quality shoe and they are constantly updating and adding innovative shoe tech to tackle shoe durability while giving
good drainage
. If you're looking for good shoe drainage it's a good idea to keep an eye in Reebok shoes, especially as they regularly update.
 FIT. 
 Seriously get the best FIT, every runner's foot if a bit different, scan reviews by Runnerclick regularly, follow our advice and ensure you get as near perfect FIT as possible.  Take on board exactly what the shoe offers in terms of
durability, protection, traction
, draining and performance and factor in the shoe features with the overall construction. Try the shoe on, move around, think how the shoe will feel and perform during the exceptional challenges which it will face in an obstacle course race.
Value for money.
We all like a bargain but in the case of the right shoe for you, it has to be said,
choosing a cheap unknown option will cause you to regret
,
go for a shoe name
that you know has invested research, innovation and time into creating a high quality running shoe.
Here are our listed criteria which we used as the focal points for our review along with the indicators we have just mentioned above.
Comfort
Comfort is key when choosing a shoe. If a shoe's midsole is made from EVA foam, it's most likely super comfortable. Also, take into consideration if the shoe is supportive enough around the ankle. This is especially important in a trail shoe. Support is very important with this type of activity. Without the proper support, you put yourself at risk of joint injuries. It is also important to keep in my mind if you are prone to joint injuries that this aspect is especially crucial. It is important to not only have it feel comfortable but to also to give you enough support in the long run. The lacing system also affects the way the shoe feels on your foot. Many shoes use QuickLace technology, while others still use a traditional lacing system. This is purely a personal choice; it's strictly based on preference. However, many runners find that the QuickLace systems provide the foot with more support than does a regular shoe. Again, this will very important if you are prone to joint injuries. It will also factor in how much stress and pressure you may put on your feet with various activities.
Traction
Traction is very important, especially when faced with adverse weather conditions. Traction also plays a key role when moving on a difficult terrain at a higher speed. You will want to keep in mind how quickly you will be moving and what type of terrain you might encounter. Typically, you want to look for a shoe that has rubber lugs on the bottom of the outsole. These lugs "dig" into the ground with every stride, giving you the best traction possible. Today, most of the trail shoe brands on the market do use these types of lugs. They're efficient in muddy areas, dry trails, grassy terrain, you name it. This is especially important during or after adverse weather conditions. Another factor that contributes to traction is whether the shoe has a tread design on the bottom that is specifically in place for grip. Traction is an important factor in any running shoe, but especially so for trail shoes. With the rough, rocky, sometimes unpredictable terrain, your shoes have to be designed to last. The better the traction the more stability you will have.
Durability
When you're running through an obstacle course, you need a shoe that's going to hold up, allowing for quicker movements. Many trail shoes use a heavy-duty rubber outsole to provide extra support. This is great to have, as is a mudguard. Exposed to the type of conditions that you are during an obstacle course race, durability is pretty important. Many shoes have a water-repellent coating or feature a water-repellent mesh material. This can greatly increase the life of your shoes, so it's a good idea to check if a shoe has this feature before you make a purchase. It is also important to note that it will also increase your balance and stability in adverse conditions.
Additional Things To Think About
Cost
Cost can play a big role in purchasing your next shoe. You probably don't want to break the bank in the process of purchasing a pair of OCR shoes. If you've never owned a pair in the past, you may be even more hesitant. While there are some relatively expensive OCR shoes out there, many quality shoes are priced fairly considering the craftsmanship and durability. The other thing to weigh in is the length of the shoe life. The initial cost may seem a little overwhelming, but weighing the cost over time will make it seem more cost-effective. Understanding that it is an investment that will have gains long after the initial cost.
Water-Repellent Properties
It's relatively important for a trail shoe to have some degree of water-repellent properties to the standard of a good gore-tex shoe but drainage capability must be evident. This is very important especially if you will be using the shoes in harsh weather such as rain or snow. With obstacle course races, you never know when you're going to come into contact with a puddle, for example, on the ground. This is also useful when faced with various weather conditions. When the upper of a shoe is water-repellent, it prevents your shoe getting logged down with water, becoming heavy and uncomfortable. Typically these water-repellent areas of the shoe are made of a mesh-like material. This also helps to keep your foot cool and ventilated. When you have a breathable shoe it will reduce that considerably. It will also allow the shoe to dry quickly so that you may continue to increase your athletic performance.
Having a breathable shoe will also help in prolonging the life of the shoe. Odors and bacterial can decrease the life of the shoe. This may also affect your speed and balance.
Breathability
You're going to want a shoe that's breathable for a few reasons. First, the more ventilated a shoe is, the cooler your feet stay during your run, helping to reduce sweat and moisture. Ventilation also helps prevent the buildup of bacteria and odors. Some shoes even use a special anti-microbial fabric to further eliminate other bacteria. A breathable shoe means that your shoe dries quickly, which is a huge advantage to have. If a shoe does not dry quickly, it gets weighed down with moisture, which affects your athletic performance. This also helps prolong the life of the shoe.
Drop
Just as with regular running shoes, drop heights vary across the board. Shoes with a low drop are lower to the ground and typically have minimal cushioning. The low drop shoe typically allows the heal to sit at shoe level. Higher drop shoes are different than the "minimalist" low drop ones in that they provide much more support and cushioning.  The choice between a high drop shoe and a low drop shoe is strictly a matter of personal preference. That is why it's very important to choose which is more comfortable for you. A good idea is walking around in both types to ensure which one feels better.
FAQ
Q:

 What is the difference between an OCR shoe and a regular running shoe?
A: A good OCR shoe is necessary for racing success. Obstacle courses, such as Tough Muddle, are typically full of rough terrain, puddles of water, and inches of mud. With such extreme conditions, you need a shoe that's a bit more durable than your typical running shoe. Since OCR's are specially designed to handle these types of terrain, it's recommended that you are always equipped with a solid, specialized shoe.
OCR's provide more protection to the foot, increases traction, and repels water. This enables you to have firm traction with keeping the pace and keep up your endurance. This will also ensure stability preventing joint injuries. Along with accidental stumbling or falling, this might also be ideal for those that run in adverse weather conditions or may hike in more difficult terrains.
Q:

How do I choose the right size?
A: It's often very difficult to find these types of trail shoes in common sports stores. This leads to people buying from an online source. We do not recommend purchasing OCR's this way. This makes it difficult to choose the right size considering you can't try on a shoe via the internet. If you do purchase it via the internet make sure you keep all receipts so that you can exchange for a different type of shoe if needed. The typical rule of thumb is to order OCR's one size larger than your regular shoe size. The reason for this is that your feet swell when you're working out! You don't want them to be so tight that your foot becomes uncomfortable and feels restricted. This will also help increase the life of the shoe ensuring longer lasting wear for the long term.
When trying on shoes we suggest you try on several different pairs to compare which feel most comfortable to you. You might want to try on a different shoe on each foot to compare the difference. Walking around the store up and down the aisles or even being able to run if it is allowed. We recommended this so you can get a good idea of how the shoe will feel and hold up before making your purchase.
There are many different brands to choose from which can make the task even more daunting. We suggest researching what types of brands you are wanting to purchase. Often when we enter a shoe store the salesperson is looking to sell us something. To have an idea prior to purchasing will help make the task a little less stressful. This will also help prevent you from being distracted by a salesperson.
The shoe drop is also something to consider. While its a personal preference understanding the difference between the high and low drop of a shoe will help in finding the right fit. Trying on both types to see what might feel more comfortable for you and offer the best support.
Q:

What gives a shoe great traction?
A: Traction is very important when purchasing a shoe. When a shoe has a design on the bottom of the outsole that's specially designed for traction, that shoe is going to do great on trails and essentially all sorts of terrain. When there's the addition of lugs to the bottom, traction is increased even further. The lugs serve as little "spikes". They dig into the ground with every stride to really make sure that you're stable and planted firmly on the ground.
Since traction is especially important in trail running or obstacle course racing, this is always a huge factor to consider when looking to purchase a quality shoe. It will also ensure that whatever terrain you may face you are well prepared. This will allow you to flow through various terrains effortlessly. Allowing your athletic performance to not be hindered.
It is very important to keep in mind the type of activities you will be using the shoes for. Will you be using the shoes for obstacle courses primarily or will you be using the shoes for track running? It is also important to consider what type of terrain you might encounter. Could you be using the shoes in diverse weather conditions? Maybe you will be using the shoes for muddy obstacles courses. This is where traction will play a key factor in the type of shoe you purchase. It is important to take into consideration the level of comfort you may be needing. As an example, if you have weak joints or prone to knee injuries looking for a shoe that offers more comfort and support will be vital in your shoe selection.
A: Not necessarily. The QuickLace system is efficient at holding the foot down and in place, but some prefer the traditional system. This is essentially a personal preference. Sometimes the lacing system can affect the way the tongue feels against your foot, so consider this before buying. QuickLace may be ideal for those who have weaker joints and need a more supportive shoe. Keep in mind comfort is the key!
Q:

How much does a pair of OCR shoes typically cost?
A: It varies, but the majority of OCR shoes are priced roughly in the $100-200 range. To some, this cost may feel like it will break the bank. Considering the overall cost with the length of the shoe life. The investment cost up front will outweigh the cost over time. A lower cost shoe may need to be replaced twice or three times as quickly. The cost, in the end, will be well worth it! The cost of a shoe can be a factor in determining which one you may select but we encourage you to think about the more quality of a shoe the longer it will last. The investment you make now can save you in the long run. It will not only be easier on your wallet but it will also ensure you will you have the right shoe. This will also decrease the result of stress and injury.
Q: 

I'm thinking of choosing a Gore_tex running shoe for protection against water entering my shoe, am I on the right track?
A:  If your looking for solid protection against water then yes you are on the right track but think about this more. For an obstacle course, unless its a dry course you are going to need a shoe with very good drainage capability.  Gore-Tex will keep water out but if you end up wading through a water ditch your shoe will fill up and you're going to need to drain the water out. Once your shoe is waterlogged it will increase in weight a lot and add the mud factor which will stick to your shoe and you will be seriously struggling to get through the race.  We all know how good Gore-Tex is but in certain conditions you should consider other factors and this might mean choosing a shoe which does not perform so well at keeping water out but rather it performs to let water drain out. Check out these nice high performing trail shoes as options but if your heart is set on defense against water then look at these top quality shoes.
 

Q:  

I prefer non-minimalist shoes and I'm thinking that the shoes will wear out faster when I run regular obstacle courses, is it ok to just get a cheap pair of shoes as they won't last long anyway?
A:  I feel choosing an unknown and untested obscure shoe will backfire on you especially during the race.  Brand shoe makers carry out a lot of research to ensure runners get the right level of protection, durability, performance and comfort. Cheaper unknown and often imported shoes can look up to the job but the reality can be very different. In the long term when considering durability will you really be saving money? You will be replacing inferior shoes more often and your level of performance could be dramatically reduced. Take a look at this review of good quality shoes and see if there is a pair which works for you.
If you take into account these key factors when purchasing your OCR shoes, the process will go much more smoothly.  We hope that this makes the task of finding the right shoe a little less daunting. Happy shoe buying!
Subscribe to our newsletters